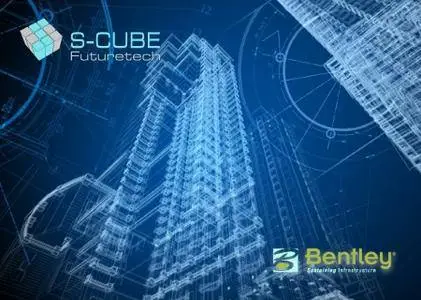 STAAD Advanced Concrete Design RCDC 06.03.01.02 | 182.2 mb
Bentley Systems Inc., the leading company dedicated to providing comprehensive software solutions for sustaining infrastructure, has released an updated STAAD Advanced Concrete Design (STAAD RCDC), is a tool that will take the model and analysis results to produce full construction production drawings and schedules. With STAAD Advanced Concrete Design packs, you can now take a STAAD.Pro model and generate designs, drawings and schedules for concrete components of structures to one of a varitey of design codes.
New Release STAAD Advanced Concrete Design (STAAD RCDC) v6.3:
I am pleased to announce the release of an update to the STAAD RCDC application that provides concrete design solutions for STAAD.Pro models.
This new release offers 3 key updates
- Provision for defining effective length ratios for the design of columns and walls.
- Extended steel grade support for ACI and Eurocode design
- Additional option for determining the interaction capacities for column design subject to bending moments about both orthogonal axes.
For the full list of new and improved features, and fixed bugs please refer to the release notes located
here
About STAAD RCDC.
Take your concrete analysis to a new level with STAAD Advanced Concrete Design. Designed by practicing engineers for practicing engineers, STAAD Advanced Concrete Design was purpose-built by our expert partners, S-Cube Futuretech. Maximize your software investment by combining the power of Bentley's STAAD.Pro analytical engine with robust concrete design. Produce drawings according to global design standards. Design in compliance with India (IS), United Kingdom (GB), Europe (EC), or United States (ACI) design standards.
Design concrete elements, such as beams, columns, and walls in an automated and interactive workflow. Experience full control of your designs by setting individual design parameters.
Quickly produce detailed design drawings for beam line elevations, column line elevations, automatic cross section details, and bar termination geometry. Create individual beam bar bending schedules, column schedule tables and beam schedule tables.
About Bentley Systems, Incorporated.
Bentley is the global leader dedicated to providing architects, engineers, constructors, and owner-operators with comprehensive architecture and engineering software solutions for sustaining infrastructure. Founded in 1984, Bentley has nearly 3,000 colleagues in more than 45 countries, $500 million in annual revenues, and, since 2001, has invested more than $1 billion in research, development, and acquisitions.
Product:
STAAD Advanced Concrete Design (STAAD RCDC) V8i
Version:
06.03.01.02
Supported Architectures:
32bit / 64bit
Website Home Page :
www.bentley.com
Language:
english
System Requirements:
PC
Supported Operating Systems:
Windows 7even or newer
Size:
182.2 mb
Please visit my blog
Added by 3% of the overall size of the archive of information for the restoration

No mirrors please