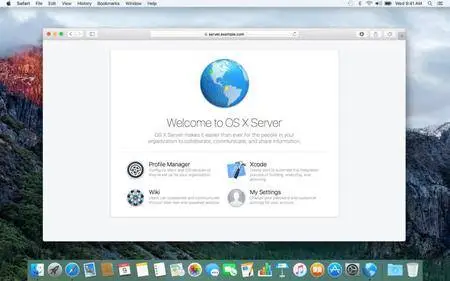 Apple macOS Server 5.4 Multilingual MacOSX | 187 MB
Designed for macOS and iOS devices, macOS Server makes it easy to share files, schedule meetings, synchronize contacts, develop software, host your own website, publish wikis, configure Mac, iPhone, and iPad devices, remotely access your network, and more.
macOS Server is an application you can add to macOS right from the Mac App Store. Anyone can quickly and easily turn a Mac into a server that's perfect for home offices, businesses, schools, developers, and hobbyists alike.
Here's what you'll get with macOS Server:
Profile Manager
• Mobile device management for Mac and iOS devices
• Simplified management and deployment of iOS and macOS.
• Distribution of institution licensed apps and books purchased from the Volume Purchase Program to users or devices
• Install Software Updates on devices running iOS 10 and mac OS 10.12.
• Device Enrollment Program integration
• Web-based administration console
• Self-service user portal for clearing passcodes, remote lock, and remote wipe
Calendar Server
• Share calendars, schedule meetings and events, and book conference rooms
• Standards-based CalDAV server for access from Mac, iPad, iPhone, and PC
• View availability with free/busy lookups
• Email invitations and push notifications
Contacts Server
• Synchronize contacts with Mac, iPad, and iPhone
• Allow multiple users to access and update contacts
• Standards-based CardDAV server
Wiki Server
• Point-and-click page edit to change formatting and insert images, movies, and attachments
• Access controls
• Tags and comments
• Revision history
• Document sharing
• Quick Look previews
Mail Server
• Standards-based SMTP, IMAP, and POP server
• Push notifications
• SSL encryption
• Adaptive junk mail filtering
• Virus detection and quarantine
Virtual Private Network
• Remote access for your network services
• Encrypted VPN connections for Mac, iPad, iPhone, and PC
Xsan
• Block-level SAN file sharing with concurrent read/write access
• Xsan volume hosting and configuration
• Volume management, storage pooling, stripping, and volume mapping
• Real-time monitoring, graphs, and event notifications
• Metadata controller failover and file system journaling
Server App
• Local and remote management
• Users and group settings
• View real-time graphs of server usage
• Receive alerts on network changes, certificate expiration, storage usage, and more
Some features require an Apple ID and/or compatible Internet access; additional fees and terms apply. Some features require program enrollment. Some features are not available in all countries.
What's New in macOS Server 5.4
Server App
• Caching Server, Time Machine Server, and File Sharing advanced options are now built directly into macOS 

• Caching Server now supports a tiered architecture
• Xcode Server has been integrated into Xcode
• Support for APFS volumes
Profile Manager
Support for new restrictions, payloads, and management commands:
iOS 11

• New supervised-only restriction: Allow VPN creation
• New supervised-only Classroom restrictions to allow managed class behavior for 
unmanaged classes on supervised devices: Force unprompted joining of classes, Force 
unprompted App and Device Lock, Force unprompted Screen Observation and AirPlay
• New supervised-only AirPrint restrictions: Allow AirPrint, require trusted TLS certificates 
for AirPrint, Allow iBeacon discovery of AirPrint printers, Allow AirPrint credentials to be 
stored in keychain
• AirPrint payload now supports specifying a port and whether connection must be TLS
• VPN IKEv2 and Wi-Fi payloads now support specifying TLS min/max version
• New supervised-only payload: DNS Proxy
• Option to preserve data plan when erasing device
• Option to install apps and books on iOS devices only when they are USB tethered with Ethernet
• Software updates can now be installed on all supervised devices even while passcode 
locked 
• Skip new Setup Assistant panes: Keyboard chooser and Watch migration 

macOS 10.13 

• New macOS payload: Extensions
• New macOS payload: Smart Card
• New macOS payload: System Migration
• VPN IKEv2 and Wi-Fi payloads now support specifying TLS min/max version
• New macOS MDM commands: User List, Unlock User, Delete User, Shutdown, and 
Restart
• New macOS MDM commands and status query for EFI password management
• Option to apply 802.1X configuration to any Ethernet interface
• Option to hide Siri setup screen on first login
• New macOS FileVault key escrow mechanism 

tvOS 11
• New supervised-only restriction: Allow modifying device name
• Wi-Fi payload now supports specifying TLS min/max version
• Now supports Home Screen Layout payload
• New tvOS payload: AirPlay Incoming Security
Compatibility: macOS 10.13 or later, 64bit
Mac App Store:
https://geo.itunes.apple.com/app/id883878097