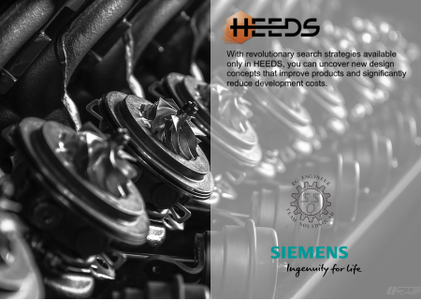 Siemens HEEDS MDO 2021.2.0 | 2.5 Gb
The software developer HEEDS Design Exploration Team is pleased to announce the availability of HEEDS MDO 2021.2.0. All enhancements and updates in this release increase usability, connectivity and productivity to put you more in control of the design process, the interpretation of results, and the insight gained.
Release highlights TAGGING EXPERIENCE UPDATES
Script-based tagging now shows a preview of the tag commands to enhance productivity and reduce debugging effort. Furthermore, XML-based tagging is now available for userdefined portals.
PROCESS AND SERVER MANAGER
This release introduces a process task manager enabling detailed monitoring of processes launched by the solver for greater transparency and control of the sub-processes used by HEEDS at runtime.
NEW INVESTIGATE SURROGATES TOOL
A new Investigate method in HEEDS POST provides a space to compare multiple surrogate models together, and helps users identify a preferred surrogate for each response for later use in workflows.
TOOL RIBBON CUSTOMIZATION
The tool ribbons in HEEDS MDO and POST can now be customized to launch HEEDS API based scripts or external commands, enabling methods and utilities to be incorporated directly within HEEDS.
NEW HTRI XCHANGER SUITE PORTAL
In this release, we introduce the new HTRI Xchanger Suite Portal supporting our user baseworking on advanced thermal heat transfer equipment design and simulation.
ENHANCED COLLABORATION WITH XCELERATOR SHARE
To further promote collaboration across teams, this release offers support for Simcenter Xcelerator Share, a cloud-based platform for data sharing, synchronization, and data storage, offered across the Simcenter product portfolio.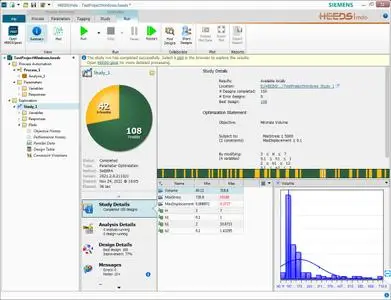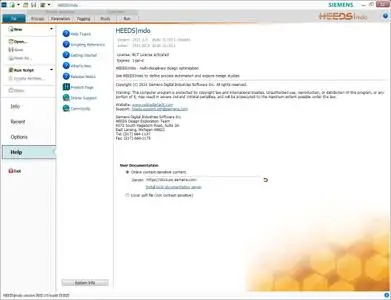 HEEDS is a powerful design space exploration and optimization software package
that interfaces with all commercial computer-aided design (CAD) and computer-aided engineering (CAE) tools to drive product innovation. HEEDS accelerates the product development process by automating analysis workflows (Process Automation), maximizing the available computational hardware and software resources (Distributed Execution), and efficiently exploring the design space for innovative solutions (Efficient Search), while assessing the new concepts to ensure performance requirements are met (Insight & Discovery).
The release of HEEDS 2021.2 brings significant enhancements that accelerate your product development processes. Our priority is to ensure that HEEDS can be easily and productively leveraged by all users.In this release, we've focused our efforts towards increasing capabilities across several portals within our product, whilst bringing a new portal to HEEDS for this release, increasing our total portal count to 60, complemented by an additional 33 general templates.This release includes new features to make it easier to run evaluation onlyworkflows, and provides integration capabilities with the new Xcelerator Share offering from Siemens.
Enhancing our Insight & Discovery capabilities, we have added a new Investigate method to help our users better compare multiple surrogatemodels together, evaluate their predictive performance and streamline the process of creating surrogate-based design studies.HEEDS 2021.2 also offers several other new features and updates that continue to streamline design space exploration. We are confident that these updates will help you to continue to drive innovation in product development and discover better designs, faster!Python 2.7 is no longer supported for running API scripts, evaluating formulas, and for use in the Python portal. If you previously used Python 2.7 HEEDS 2021.2 will automatically switch to using Python 3.6. If you need to continue using Python 2.7 please contact HEEDS Technical Support for a temporary workaround. The workaround will not be possible in future releases, so it is strongly recommended that you upgrade your scripts to be compatible with Python 3 syntax.
How to do a parameter optimization with Heeds MDO and Siemens NX.
How to do a parameter optimization with Heeds MDO and Siemens NX. NX version is NX 1946 and Heeds MDO is version 2020.2.1.Parameters and measurements in an NX-CAD-part are used to optimize to a certain value. The ratio between area of the part to the volume of the part must become 0.2 and area should be maximized
HEEDS software
is offered by Siemens PLM Software, a leading global provider of product lifecycle management (PLM) and manufacturing operations management (MOM) software. The HEEDS team is located in East Lansing, Michigan, with software distributors throughout the world. We offer design space exploration services and software to our customers and clients based on our core values — unbridled innovation, uncompromising integrity, and quality in everything we do.
Product:
Siemens HEEDS MDO
Version:
2021.2.0 build 211021 with VCollab 21.1
Supported Architectures:
x64
Website Home Page :
www.redcedartech.com
Languages Supported:
english
System Requirements:
PC *
Size:
2.5 Gb
Please visit my blog
Added by 3% of the overall size of the archive of information for the restoration

No mirrors please