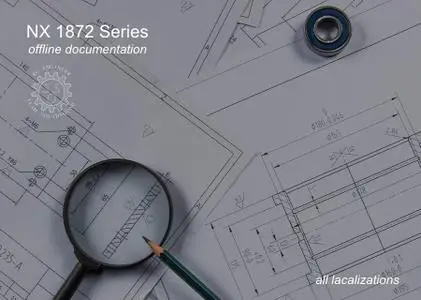 Siemens NX 1872 Series (NX 1872-1892) Documentation | 43.5 Gb
Languages: 中文, Čeština, Español, Français, Deutsch, Italiano, 日本語, 한국어,
Polski, Português, Русский
The Siemens PLM Software team is pleased to announce the availability of Siemens NX 1872 Series (NX 1872-1892) Documentation for 中文, Čeština, Español, Français, Deutsch, Italiano, 日本語, 한국어, Polski, Português, Русский localizations.
NX help documentation – June 2019
When you use offline help, you are using the help file distributed with the software. That version of help is updated only when you upgrade your software.
When you use online help, you are accessing, through website, the help file for the most current version of Siemens NX Series. As such, it may differ from the version of offline help you are using in your current software version.
Siemens become the first major CAD/CAM/CAE vendor
to deliver its software using Continuous Release methodology in January 2019.
With this deployment model, NX customers will be able to access new improvements more quickly while reducing the effort required to implement NX. This makes Siemens the first major CAD / CAM / CAE software provider to publish product updates in this way and provides innovations and improvements in the software even faster.
The main change for you as a customer are the monthly update releases, which are made available to you within a single release series. Bugs are therefore no longer fixed in different releases, just in the latest update and even smaller extensions are integrated promptly, which raises the quality to a new level. Significant enhancements that may affect the schema and compatibility are expected approximately every six months. Whether and when you roll out updates in your company, if you automate the updates or if you want to use different versions on the same hardware remains your decision.
Siemens PLM Software
a business unit of the Siemens Digital Factory Division, is a leading global provider of product lifecycle management (PLM) and manufacturing operations management (MOM) software, systems and services with over 15 million licensed seats and more than 140,000 customers worldwide. Headquartered in Plano, Texas, Siemens PLM Software works collaboratively with its customers to provide industry software solutions that help companies everywhere achieve a sustainable competitive advantage by making real the innovations that matter.
Product:
Siemens NX
Version:
1872 Series (NX 1872-1892)
Supported Architectures:
x64
Website Home Page :
www.plm.automation.siemens.com
Language:
multilanguage
System Requirements:
PC
Supported Operating Systems:
Windows 7even or 10
Software Prerequisites:
*
Size:
43.5 Gb
The help runs in a browser and is delivered in XML and HTML formats.
PDF files
A few modules are delivered in PDF format. To read the PDFs, your users must have Adobe Acrobat Reader.
Simulations and videos
To watch simulations and videos, your users must have the latest version of Adobe Flash Player installed as a plug-in in their browser.
CHM files
On Windows, the Open for .NET and SNAP Reference guides are delivered in CHM format. Windows security enhancements prohibit users from opening CHM help files across a network. Your users must download or save these files on their computers.
Browser support
We support the latest version of the following browsers in Windows 7, 8, and 10, and recommend that you keep your browsers up to date with the latest security patches:
- Edge (Windows 10 only)
- Internet Explorer
- Firefox
- Chrome
Environment variables
The following variables set in the ugii_env file are necessary for running the help:
UGII_UGDOC_BASE
Base location where the help documentation is installed
Example:
http://localhost:8282
UGII_EMBEDDED_HELP
Location where the help embedded in NX is installed
Installing NX and the help in different languages
If you run NX in a localized language but installed the help in different language, you can set
UGII_UGDOC_LANG
to the language of the help you installed, such as to
en_US, it_IT, ja_JP,
and so on.
This variable also sets the
UGII_CSHELP_DEFAULTS_DOCS
and
UGII_CSHELP_FUSION_DOCS
variables to point to the installed help language at runtime, and ensures the context-sensitive help for Customer Defaults and Knowledge Fusion is displayed in the language of the help install and not the NX install.
Please visit my blog
Added by 3% of the overall size of the archive of information for the restoration

No mirrors please