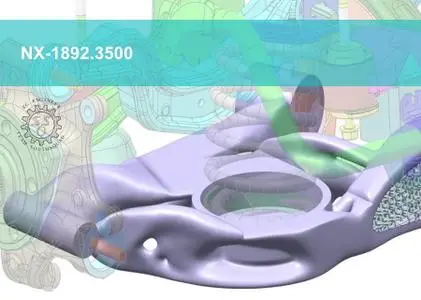 Siemens NX 1892.3500 (1872 Series) | 13.1 Gb
Languages: English, 中文, Čeština, Español, Français, Deutsch, Italiano,
日本語, 한국어, Polski, Português, Русский
The Siemens PLM Software team is pleased to announce the availability of NX 1892.3500 (1872 Series). This continuous release is robust and powerful, and it delivers advanced technologies for product design, development, and manufacturing in a single, multidisciplinary platform.
Siemens NX 1892.3500 (1872 Series) Release Notes - Date: April 2020 1892.3500 ENHANCEMENTS
Please see below for a list of enhancements included in this release.ER:
•ER
9636800 - Create PMI dim not following default plane perpendicular to current model view
Fixed_Problem_Reports
1892.35,8438950,Solr Indexing for the Reuse library on server and clients
1892.35,8440775,Error opening Parts - The record area asked for does not exist in this object
1892.35,8864632,Section Drawing not giving correct result Additional Structure is missing.
1892.35,9495382,NX freezes during data export to STEP
1892.35,9515479,Floor Wall Negative Stock in NX1867 doesnt work anymore
1892.35,9535375,After booklet population selecting the Part Navigator generates error
1892.35,9551914,Replace Component clones PTS Template
1892.35,9570490,Drawing booklet processing fails with fatal errors,
1892.35,9582888,Get random General Fault Exception error and NX session crashes.
1892.35,9601427,Animation Designer: Assemblies only work with Entire Part References Set
1892.35,9602797,Internal error: memory access violation on close of Workset. Fails to close.
1892.35,9629186,Performance regression loading routing library between NX 8.5 & NX11 & forward.
1892.35,9630652,Exiting NX in Managed mode it takes a long time for exit to complete.
1892.35,9636800,Create PMI dim not following default plane perpendicular to current model view
1892.35,9638865,Looking for a method to check for Associative Annotations being out of date
1892.35,9643611,Customer Defaults dialog Ped Pro General tab garbles or Sig11
1892.35,9648789,Error during split of Ship structure profiles with mirrored Plates.
1892.35,9649829,Worksets take significantly longer to open in NX1855 than NX11
1892.35,9651839,Multiple split of ShipStrPlates used to split other profiles results in error ,
1892.35,9653315,Regression Issue: Notes over 256 characters are being truncated using KF.
1892.35,9656203,Reuse library does not work for all hole types
1892.35,9662007,NX-CAM Flowcut toolpath will not generate locks up NX1892
1892.35,9663284,NX CAM: Create Tool dialog shows ItemRev IDs instead of process types.
1892.35,9663997,JT Export leads to 11: Internal error: memory access violation
1892.35,9667164,Assign Material dialog not obeying customer default due to dialog memory
1892.35,9671079,MCD crashes when simulation is paused
1892.35,9672799,JT-Export breaks down with internal error
1892.35,9675398,NX-CAM Z Level operation - invalid storage identifier - Memory access Violation ,
1892.35,9675806,Unable to start NX 1899 from TC 12.2.0.4
1892.35,9682011,Modeling option Delete Child Feature does not work for the Weld Assistant bead,
1892.35,9682941,Hide Components in Exploded Views selection in graphics window not possible
1892.35,9683663,NX Reuse library create index disabled
1892.35,9686448,Performance regression reentering routing after changing applications
1892.35,9695658,Weld Assistant extra spline when workpart is not entire part refset
1892.35,9700758,Mesh point missing after opening nx11 model in 19.2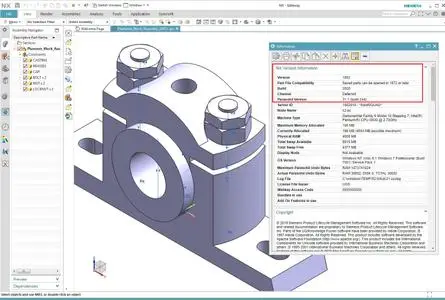 Siemens become the first major CAD/CAM/CAE vendor
to deliver its software using Continuous Release methodology in January 2019.
With this deployment model, NX customers will be able to access new improvements more quickly while reducing the effort required to implement NX. This makes Siemens the first major CAD / CAM / CAE software provider to publish product updates in this way and provides innovations and improvements in the software even faster.
The main change for you as a customer are the monthly update releases, which are made available to you within a single release series. Bugs are therefore no longer fixed in different releases, just in the latest update and even smaller extensions are integrated promptly, which raises the quality to a new level. Significant enhancements that may affect the schema and compatibility are expected approximately every six months. Whether and when you roll out updates in your company, if you automate the updates or if you want to use different versions on the same hardware remains your decision.
NX CAM engineer Aaron Blake covered what's new in NX CAM continuous release 1872, with a focus on changes in Fundamentals, Milling, Integrated Simulation and Verification (ISV), Postprocessing, and Feature-based Machining. Toward the end, Aaron also covers some of his core CAM tips & tricks.
Siemens PLM Software
a business unit of the Siemens Digital Factory Division, is a leading global provider of product lifecycle management (PLM) and manufacturing operations management (MOM) software, systems and services with over 15 million licensed seats and more than 140,000 customers worldwide. Headquartered in Plano, Texas, Siemens PLM Software works collaboratively with its customers to provide industry software solutions that help companies everywhere achieve a sustainable competitive advantage by making real the innovations that matter.
Product:
Siemens NX
Version:
1892.3500 (1872 Series) *
Supported Architectures:
x64
Website Home Page :
www.plm.automation.siemens.com
Language:
multilanguage
System Requirements:
PC **
Supported Operating Systems:
**
Size:
13.1 Gb
*
Files save in the NX-1872 Series (NX-1872 and higher) cannot be opened in the NX-1847 Series (NX 1847-1867) and lower versions of the NX
Minimum Operating Systems
- Microsoft Windows 10 (64-bit) Pro and Enterprise editions

Windows 10
Windows 10 is the minimum supported release for NX 1867. The supported versions of Windows 10 are the Professional and Enterprise editions utilizing either the Current Branch for Business (CBB) or Long Term Service Branch (LTSB) update branch. The Current Branch (CB) update option is not supported. Windows 10 is also available for NX 10.0.3 and later versions including NX 1867. Any caveats or special instructions are provided in the SFB announcing support.
Windows 7 and 8.1
Windows 7 has reached the end of life and mainstream support has ended. Windows 8.1 is still supported by Microsoft, but was rarely deployed. These two versions of Windows are no longer supported by NX 1867. Siemens PLM Software has not performed testing on these versions and cannot resolve any issues related to NX 1867 running on these operating systems.
Windows XP and Vista
Windows XP support from Microsoft has ended and Vista was rarely deployed so these two versions of Windows are not supported by NX 1867. Siemens PLM Software has not performed testing on these versions and cannot resolve any issues related to NX 1867 running on these operating systems.

Recommended System Configuration:
- 64-bit Windows 10 operating system
- 4 GB RAM minimum, 8 GB or 16 GB RAM recommended
- True Color (32-bit) or 16 million colors (24-bit)
- Screen Resolution: 1280 x 1024 or higher, widescreen format
Please visit my blog
Added by 3% of the overall size of the archive of information for the restoration

No mirrors please