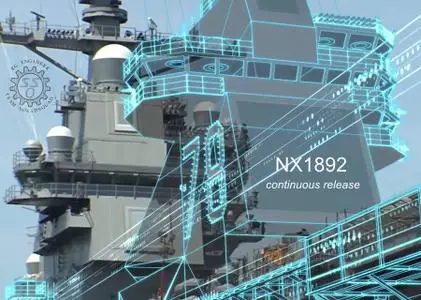 Siemens NX 1892 | 15.2 Gb
Languages: English, 中文, Čeština, Español, Français, Deutsch, Italiano, 日本語,
한국어, Polski, Português, Русский
The Siemens PLM Software team is pleased to announce the availability of NX 1892 Series. This continuous release is robust and powerful, and it delivers advanced technologies for product design, development, and manufacturing in a single, multidisciplinary platform.
We are proud to introduce the latest release of our product development solution. With this release, we continue to provide innovative ways to deliver solutions that meet the next generation of your product design, development, and manufacturing challenges. The new version of NX is robust and powerful, and it delivers advanced technologies for product design, development, and manufacturing in a single, multidisciplinary platform. It preserves best-in-class customer deployment readiness, and builds on the productivity and stability achievements of the previous release.
1892,1885410,STEP Import fails with Error 1063 Unable to create trimmed sheet body
1892,6467725,step file not translating properly
1892,8404116,CAM Hole_Making missing Machining_Area
1892,8415573,problиme mйthode rayonnement
1892,8425459,Creation_Date attr changed from Date to Date+Time on assy load opt menu OK
1892,8428348,2D element results not read
1892,8429780,CGM wird beim Speichern von Parts nicht erzeugt in NX + TC Integ.
1892,8430150,VL2SC Import of cylindrical bushing is incorrect
1892,8433552,Autoflex does not take into account markers
1892,8563354,Octave band is not adopted to BEM vibro-acousitcs
1892,8564287,PreSolver embeded in v1884 always hung up
1892,9120443,Occurrence note LOVs are not showing in NX integration
1892,9170699,Work instruction error after editing the templates in non-English Excel
1892,9193833,Use of LOVs in occurrence notes in Nx
1892,9302743,Date attribute sometimes just contain date somtimes also include time
1892,9303955,cannot export ansys
1892,9328007,Not able to generate the toolpaths for operations from outside
1892,9406238,MRL command Create Setup Sheets puts hidden revolve bodies into drawing
1892,9432648,Autoassembly fails to set correct ToolTipJunction
1892,9456358,NX unable to import ProE/Creo part
1892,9478287,View NX1847 ugpart in TC can not find CGM DATA
1892,9484201,NX session with MRL native connect gets unstable
1892,9494692,MRL - how to ignore the spining geometry in automatic setup sheet creation
1892,9498455,Getting Wrong result for End cut applied to edge reinforcement ending in a Bend
1892,9506858,CGM Data are not saved in the PRT file from NX1863
1892,9508184,The same message is displayed when running Collision Avoidance multiple times.
1892,9508878,Save Workpiece As operation in Manufacturing failes with Exception Error
1892,9508955,Save Drawing CGM Data not saving CGM within prt correctly - missing annotations
1892,9512201, Difference of result by version of NX in SOL153.
1892,9516230,No dmis file is created when running a CMM Inspection simulation using NX Open
1892,9518812,HOLE_BOSS_GEOM changes Modeling tolerance.
1892,9520245,NX 12 Assembly Import not honoring use part type from file
1892,9520801,Geometry changes wrongly after importing baseline.
1892,9521870,Internal error: memory access violation using MRL Connect
1892,9522339,Error in translation from NX Nastran to LS-Dyna
1892,9531979,Clone of Reusable PTS template part fails with Simulation Parts
1892,9536147,LOV on custom note type does not appear in NX
1892,9537170,Dynamic LOV more 2000 values are not displayed in Item Creation Window
1892,9541431,Incorrect IPW calculated
1892,9545184,NX Drawing Dim. placement using Perpendicular method reflecting wrong value
1892,9548082,Animation designer not available in 1876
1892,9549633,Internal error when opening teach mode operation
1892,9552171,Results report shows Fail even though part passes with MMC bonus tolerance
1892,9553991,Ship Structure Basic Design Weight not correct
1892,9554230,Copy a tabular note changes formatting into NX ANSI Symbols
1892,9554659,Pro/E import results differ according to the Creo version
1892,9556453,Display of Datum Planes and LInes and other Geometry while doing deform Part
1892,9558040,CGM view shows previous version
1892,9560741,Date comes with Time stamp in Note in NX drawing
1892,9565754,ISSUE WITH EXPRESSION AND MEASUR
1892,9566704,Bulk translation of .prt files to .dwg files fails randomly
1892,9567282,Weld Joint - cannot find solid thickness values for some 4GD data cases
1892,9567657,CAM Template file fails to open - internal error: memory access violation
1892,9572195, Resulting Status of Mirrored Operations Incorrect
1892,9573623,Excessive time to modify features since NX 1847
1892,9574499,Rigid Body component selection is taking long time
1892,9575347,Work Instructions - Column for Cutter Comp… Yes or No
1892,9575423,HD Bearing Viscosity is default set to zero on translation
1892,9575785,Original project template creates wrong workpiece of second family mold
1892,9578343,PMI Table - Save As Template command missing or greyed-out
1892,9578395,NX Technical data package fails to open in managed mode because of dataset name
1892,9579788,Mold Wizard remove Pocket fails - tapdrill body remains unbooleaned
1892,9580668,CAM SImulation incorrect on grooving tool
1892,9580713,Incorrect stock weight calculation after editing/replacing or refreshing stock
1892,9581263,Cant open part Internal error: memory access violation in NX1880
1892,9582595,nxplot.exe fails to launch by new references to libpman.dll + libinterop.dll
1892,9583414,When view is moved measured position changes.
1892,9584198,Migrating Discrete Drivetrain model
1892,9584379,Simcenter 3D Measure to Expression
1892,9584425,4GD : Unable to Load Collaborative Design
1892,9585363,Poor performance on startup if no internet connectivity
1892,9586564,NXMGR: MP9 to MP4 - An attempt was made to associate an object with a second
1892,9586610,units of Axial force NXX and Bolt preload Axial force vary 10k time
1892,9586908,Part Family delete empty views not working
1892,9588485,Internal error: memory access violation when opening two specific parts
1892,9590122,Crash importing Ansys .inp file
1892,9590157,NX1884 Flat Pattern Export Does Not Export All Layers
1892,9591538,DXF export Flat Pattern is incorrect
1892,9591880,Simceneter Crashes while importing Ansys input file
1892,9593959,Internal error after closing native MRL connect NX session
1892,9599856,Getting Memory access violation while adding part from Mange pending Component
1892,9602458,NX1872 starts slow on machine NX12 starts normal
1892,9602476,Family Mold Original template Workpiece incorrect on 2nd part
1892,9605556,Diagnostics Information not stored when Generated Lathe Operation
1892,9605998,Bulk translation of .prt files to .dwg files fails randomly = PR 9566704
1892,9610247,Starting the MSP-Setup.exe creates a missleading and not clear Error Message
1892,9611634,NX Drawing Border format showing date and time
1892,9617528,Base View is not a valid command in NX1888
1892,9618325,Exact representation of views showing extracted lines
1892,9621509,MoldWizard creates wrong second family workpiece in Original project template
1892,9622531,NX - Could not open PRT: memory access violation
1892,9626353,Saving Drawing fails to generate the CGM data
Siemens become the first major CAD/CAM/CAE vendor
to deliver its software using Continuous Release methodology in January 2019.
With this deployment model, NX customers will be able to access new improvements more quickly while reducing the effort required to implement NX. This makes Siemens the first major CAD / CAM / CAE software provider to publish product updates in this way and provides innovations and improvements in the software even faster.
The main change for you as a customer are the monthly update releases, which are made available to you within a single release series. Bugs are therefore no longer fixed in different releases, just in the latest update and even smaller extensions are integrated promptly, which raises the quality to a new level. Significant enhancements that may affect the schema and compatibility are expected approximately every six months. Whether and when you roll out updates in your company, if you automate the updates or if you want to use different versions on the same hardware remains your decision.
Siemens PLM Software
a business unit of the Siemens Digital Factory Division, is a leading global provider of product lifecycle management (PLM) and manufacturing operations management (MOM) software, systems and services with over 15 million licensed seats and more than 140,000 customers worldwide. Headquartered in Plano, Texas, Siemens PLM Software works collaboratively with its customers to provide industry software solutions that help companies everywhere achieve a sustainable competitive advantage by making real the innovations that matter.
Product:
Siemens NX
Version:
1892 *
Supported Architectures:
x64
Website Home Page :
www.plm.automation.siemens.com
Language:
multilanguage
System Requirements:
PC **
Supported Operating Systems:
**
Size:
15.2 Gb
Siemens.NX.1892.Win64.Full.Setup.iso
Siemens.NX.1892.Win64.Update.Only.iso
Siemens.NX.1872.Documentation_English.iso
Siemens.NX.1872.Add-Ons.iso

ATTENTION!

On some computers there were problems updating previous NX 1872 Series (1872-1888) to version 1892, both with a full 1892 installer and with an update package only. In this case, the only way to install version 1892 is to remove previous versions of the NX 1872 Series (1872-1888) and fully setup of version 1892
Minimum Operating Systems
- Microsoft Windows 10 (64-bit) Pro and Enterprise editions

Windows 10
Windows 10 is the minimum supported release for NX 1867. The supported versions of Windows 10 are the Professional and Enterprise editions utilizing either the Current Branch for Business (CBB) or Long Term Service Branch (LTSB) update branch. The Current Branch (CB) update option is not supported. Windows 10 is also available for NX 10.0.3 and later versions including NX 1867. Any caveats or special instructions are provided in the SFB announcing support.
Windows 7 and 8.1
Windows 7 has reached the end of life and mainstream support has ended. Windows 8.1 is still supported by Microsoft, but was rarely deployed. These two versions of Windows are no longer supported by NX 1867. Siemens PLM Software has not performed testing on these versions and cannot resolve any issues related to NX 1867 running on these operating systems.
Windows XP and Vista
Windows XP support from Microsoft has ended and Vista was rarely deployed so these two versions of Windows are not supported by NX 1867. Siemens PLM Software has not performed testing on these versions and cannot resolve any issues related to NX 1867 running on these operating systems.

Recommended System Configuration:
- 64-bit Windows 10 operating system
- 4 GB RAM minimum, 8 GB or 16 GB RAM recommended
- True Color (32-bit) or 16 million colors (24-bit)
- Screen Resolution: 1280 x 1024 or higher, widescreen format
Please visit my blog
Added by 3% of the overall size of the archive of information for the restoration

No mirrors please