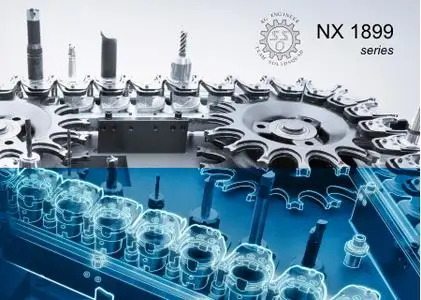 Siemens NX 1899 Series Add-ons | 2.3 Gb
Languages: English, 中文, Čeština, Español, Français, Deutsch, Italiano,
日本語, 한국어, Polski, Português, Русский
The Siemens NX 1899 product team is pleased to announce the availability of updated add-ons. The latest release of NX brings significant new and enhanced functionality in all areas of the product to help you work more productively in a collaborative managed environment.
Siemens NX software
is a flexible and powerful integrated solution that helps you deliver better products faster and more efficiently. NX delivers the next generation of design, simulation, and manufacturing solutions that enable companies to realize the value of the digital twin.
Supporting every aspect of product development, from concept design through engineering and manufacturing, NX gives you an integrated toolset that coordinates disciplines, preserves data integrity and design intent, and streamlines the entire process.
Siemens become the first major CAD/CAM/CAE vendor to deliver its software using Continuous Release methodology in January 2019. The new Continuous Release process significantly reduce the time between the proposal of a new enhancement, and its deployment to the end users. Customers will now have the opportunity to deploy the latest NX productivity enhancements more quickly in their production environment which helps them become more productive when using NX. In addition the Continuous Release will also reduce deployment costs for incremental updates.
Adopting a continuous release strategy also allows both Siemens NX and our customers to be more responsive to new ideas and trends in technology, once again allowing our customers to stay ahead of their competition.
NX 1899 - Design Enhanced Patterning
Siemens PLM Software
a business unit of the Siemens Digital Factory Division, is a leading global provider of product lifecycle management (PLM) and manufacturing operations management (MOM) software, systems and services with over 15 million licensed seats and more than 140,000 customers worldwide. Headquartered in Plano, Texas, Siemens PLM Software works collaboratively with its customers to provide industry software solutions that help companies everywhere achieve a sustainable competitive advantage by making real the innovations that matter.
Product:
Siemens NX
Version:
1899 Series Add-ons *
Supported Architectures:
x64
Website Home Page :
www.plm.automation.siemens.com
Language:
multilanguage
System Requirements:
PC **
Supported Operating Systems:
**
Software Prerequisites:
Siemens NX 1899 Series
Size:
2.3 Gb
Automation Designer NX1899
Die Design NX1899 Engineering Data Base
Easy FillAdvanced NX1899
Mold Wizard NX1899 Engineering Data Base
Engineering Die Wizard (EDW) NX1899 Engineering Data Base
Progressive Die Wizard (PDW) NX1899 Engineering Data Base
Minimum Operating Systems
- Microsoft Windows 10 (64-bit) Pro and Enterprise editions

Windows 10
Windows 10 is the minimum supported release for NX 1899. The supported versions of Windows 10 are the Pro and Enterprise editions utilizing Semi-Annual Channel (SAC) updates.
Windows 7 and 8.1
Windows 7 has reached the end of life and mainstream support has ended. Windows 8.1 is still supported by Microsoft, but was rarely deployed. These two versions of Windows are no longer supported by NX 1899. Siemens PLM Software has not performed testing on these versions and cannot resolve any issues related to NX 1899 running on these operating systems.
Windows XP and Vista
Windows XP support from Microsoft has ended and Vista was rarely deployed so these two versions of Windows are not supported by NX 1899. Siemens PLM Software has not performed testing on these versions and cannot resolve any issues related to NX 1899 running on these operating systems.

Recommended System Configuration:
- 64-bit Windows 10 operating system
- 4 GB RAM minimum, 8 GB or 16 GB RAM recommended
- True Color (32-bit) or 16 million colors (24-bit)
- Screen Resolution: 1280 x 1024 or higher, widescreen format
Please visit my blog
Added by 3% of the overall size of the archive of information for the restoration

No mirrors please