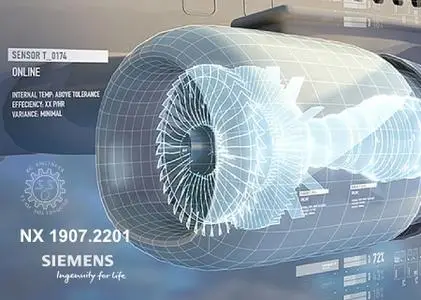 Siemens NX 1907 Build 2201 (NX 1899 Series) | 16.6 Gb
Languages: English, 中文, Čeština, Español, Français, Deutsch, Italiano,
日本語, 한국어, Polski, Português, Русский
The Siemens PLM Software team is pleased to announce the availability of NX 1907 Build 2201 (NX 1899 Series). The latest release of NX brings significant new and enhanced functionality in all areas of the product to help you work more productively in a collaborative managed environment.
1907.2201 Updates
1907 8434200 Thermal-Flow Parallel solver issue when humidity option is activated [TFPR-2026]
1907 8437675 Error encountered when using specialist durability
1907 8437720 Problem of units on .dat export CAE
1907 8439200 Value refused in case we set scientific value CAE
1907 8439327 Possible regression in table field for duplicate nodes from text file
1907 8566921 GSO Creation : not to convert definition sheet incorrectly
1907 8566929 GSO Creation : incorrect work of Connection Location Check
1907 8566944 Projection of seamweld not as expected CAE
1907 8566946 GSO Composer : Freeze when run check program with Kinematic
1907 8566947 GSO Composer : Freeze when run check program CAE
1907 8567207 GSO Creation : error message with 'Projection corrected'
1907 9617380 Stress Gradient Correction Causes differences between VL an SC3D
1907 9631032 Simcenter 3D (v.1888) - VL2SC/Migration CAE
1907 9634701 Bug report related to differential equation element and functions
1907 9635064 Reset Node and Element ID takes long time
1907 9639575 Slow performance when starting the Motion Solver
1907 9647159 Warning message: The origin of inertia CSYS is not at mass center
1907 9648050 Math Function Error When Creating Bearing Friction
1907 9656954 Mesh Mating issue after Offset Region in i.prt
1907 9662112 Different MAC results from *.lms & *.unv even though both are from same project CAE
1907 9667164 Assign Material dialog not obeying customer default due to dialog memory
1907 9673879 VL2SC_decrypt.exe not working anymore
1907 9515479 Floor Wall Negative Stock in NX1867 doesn't work anymore
1907 9590107 Safe Clearance Distance values are dismissed when using NX Open for Java
1907 9651006 NX1876 "mom_kin_helical_arc_output_mode" causing pitch error
1907 9657911 Default feeds and speeds for turning ops
1907 9607173 NX Custom Symbol, Controlled Text Attribut not possible to change
1907 9619174 Interaction with symbols in large assemblies is slow
1907 9620078 Value of second Text Attribute cannot be modified in Custom Symbol
1907 9638878 NX1872 Series cannot handle more than one text attributes of Custom Symbol
1907 9649884 NX 1888: Unable to edit multiple Notes on a Custom Symbol created in NX DRAFTING
1907 9593272 Visual Report not correctly output non geometric components on released assembly
1907 9634440 NX Weld: Transform/Mirror a Fillet weld took 3 min
1907 9639179 Unable to load another product model into moldwizard project
1907 9640286 Failed to create pockets on mold plates
1907 9641832 "A dimension subscript for an array attribute was out of range or invalid" error
1907 8431400 Wrong force from Bolt-Preload on solid elements
1907 9562643 Bolt Preload Results are wrong in NXN12 and NXN1872. NXN10 is correct.
1907 9623976 Closed Corner V-Cutout generates a wrong result NX_SHEET_METAL CLOSED_CORNER ALL
1907 9640410 Three Bend Corner: no Flange Clearance option with "Closed" treatment
1907 9589881 NX error while importing the Baseline
1907 9508401 Two stocks are generated instead of one ROUTING_GENERAL LEGACY_STOCK
1907 9543397 Error Routing: Null pointer supplied to Routing while attempt to load NX assy
1907 9648210 Mirror standard part bracket with reparenting option is incorrect
1907 8439647 Signed pre-NX1899 .NET DLL fails in NX1899
1907 9649154 GM demands backport of PR 9628299 & PR 9629211 to NX1892 series
1907 9642205 No Face attributes are imported from stepfile
1907 9586125 In NX: Unable to Export Assembly Outside Teamcenter.
Bolt Connection Element Error

An error will be raised upon attempting to create a Bolt Connection Element from the Connection Element Manager dialog under these conditions.

- A new FEM/AFM file is created and saved in Simcenter 3D 2020.1 version 1907 and it is opened in Simcenter 3D 2020 version 1899
- A Bolt Connection element is createdin Simcenter 3D 2020.1 version 1907 FEM/AFM file, when opening the file in Simcenter 3D 2020.1 version 1899, editing the Bolt Connection Element can trigger the error and obstruct the edit operation.

The influence of the errors raised in the above-mentioned cases on further operations in the Simcenter 3D is not known, so for safety reasons it is recommended to close the session and reopen Simcenter 3D after the error is triggered.

Mislabeling of the Simcenter Nastran 2020.1 release 1907

When running Simcenter Nastran 2020.1 release 1907 on Windows (serial only), the F06 and F04 files will indicate 1899.0001 release.It should be labeled as 1907.0026.This does not affect the Windows DMP or the Linux executables.Instead, users should look at the build date of February 3, 2020 as the indicator that the Nastran installation is from the 1907 release.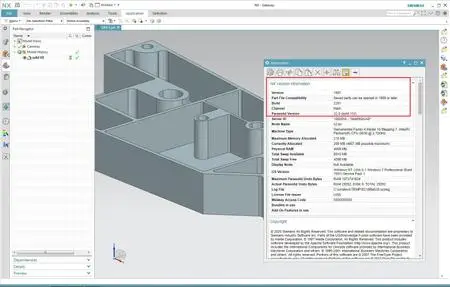 Siemens NX software
is a flexible and powerful integrated solution that helps you deliver better products faster and more efficiently. NX delivers the next generation of design, simulation, and manufacturing solutions that enable companies to realize the value of the digital twin.
Supporting every aspect of product development, from concept design through engineering and manufacturing, NX gives you an integrated toolset that coordinates disciplines, preserves data integrity and design intent, and streamlines the entire process.
Siemens become the first major CAD/CAM/CAE vendor to deliver its software using Continuous Release methodology in January 2019. The new Continuous Release process significantly reduce the time between the proposal of a new enhancement, and its deployment to the end users. Customers will now have the opportunity to deploy the latest NX productivity enhancements more quickly in their production environment which helps them become more productive when using NX. In addition the Continuous Release will also reduce deployment costs for incremental updates.
Adopting a continuous release strategy also allows both Siemens NX and our customers to be more responsive to new ideas and trends in technology, once again allowing our customers to stay ahead of their competition.
NX 1899 - Design Enhanced Patterning
Siemens PLM Software
a business unit of the Siemens Digital Factory Division, is a leading global provider of product lifecycle management (PLM) and manufacturing operations management (MOM) software, systems and services with over 15 million licensed seats and more than 140,000 customers worldwide. Headquartered in Plano, Texas, Siemens PLM Software works collaboratively with its customers to provide industry software solutions that help companies everywhere achieve a sustainable competitive advantage by making real the innovations that matter.
Product:
Siemens NX
Version:
1907 Build 2201 (NX 1899 Series) *
Supported Architectures:
x64
Website Home Page :
www.plm.automation.siemens.com
Language:
multilanguage
System Requirements:
PC **
Supported Operating Systems:
**
Size:
16.6 Gb
Siemens.NX.1907.2201.Win64.Full.Setup.iso
Siemens.NX.1907.2201.Win64.Update.Only.iso (NX 1899 pre-install)

Files save in the NX-1899 Series (NX-1899 and higher) cannot be opened in the NX-1872 Series (NX 1872-1892) and lower versions of the NX
Minimum Operating Systems
- Microsoft Windows 10 (64-bit) Pro and Enterprise editions

Windows 10
Windows 10 is the minimum supported release for NX 1899. The supported versions of Windows 10 are the Pro and Enterprise editions utilizing Semi-Annual Channel (SAC) updates.
Windows 7 and 8.1
Windows 7 has reached the end of life and mainstream support has ended. Windows 8.1 is still supported by Microsoft, but was rarely deployed. These two versions of Windows are no longer supported by NX 1899. Siemens PLM Software has not performed testing on these versions and cannot resolve any issues related to NX 1899 running on these operating systems.
Windows XP and Vista
Windows XP support from Microsoft has ended and Vista was rarely deployed so these two versions of Windows are not supported by NX 1899. Siemens PLM Software has not performed testing on these versions and cannot resolve any issues related to NX 1899 running on these operating systems.

Recommended System Configuration:
- 64-bit Windows 10 operating system
- 4 GB RAM minimum, 8 GB or 16 GB RAM recommended
- True Color (32-bit) or 16 million colors (24-bit)
- Screen Resolution: 1280 x 1024 or higher, widescreen format
Please visit my blog
Added by 3% of the overall size of the archive of information for the restoration

No mirrors please