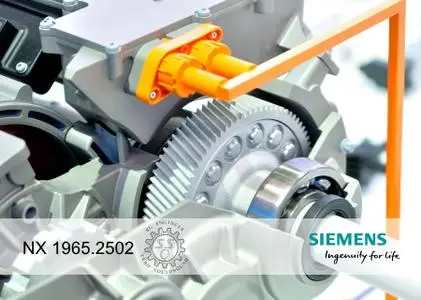 Siemens NX 1965 Build 2502 (NX 1953 Series) | 15.8 Gb
Languages: English, 中文, Čeština, Español, Français, Deutsch, Italiano,
日本語, 한국어, Polski, Português, Русский
The Siemens Digital Industries Software development team is pleased to announce the availability of NX 1965 Build 2502 (NX 1953 Series), the latest release of NX, which brings significant significant new and enhanced functionality in all areas of the product, as well as several new design tools, to help you work more productively and efficiently to build your 3D digital twin.
Siemens NX 1965 Build 2502 (NX 1953 Series) - Date: March 2021
Architecture AI: Speech Recognition
You can now use voice commands in NX. The new Speech Recognition command lets you speak out commands to perform operations in NX. Why should I use it?
You can:
- Start a command by speaking the name of the command.
- Create a sequence of commands and journals, associate this sequence with a keyword, and run the commands in that sequence by saying the keyword. For example, if you are working with a Sheet Metal part, you might want to always create a tab with a flange and convert it into a flat pattern. In such cases, you can set up speech recognition to run the Tab, Flange, and then the Flat Pattern commands in a sequence.
- Move forward and back within the open dialog box using spoken commands. This means that you can run NX commands with minimal mouse interactions. This improves accessibility
Architecture AI: Select Predicted Objects
You can use the Select Predicted Objects tool to predict objects that can be used as inputs for supported commands and select all the predicted objects in a single click. NX uses a machine learning model to calculate probability of selecting an object and predicts objects for selection. The tool supports Edge Blend and Chamfer commands. Select Predicted Objects appears on the scene toolbar when you:
- Start the Edge Blend or Chamfer command.
- Set the Selection Filter to Edge.
- Set the Curve Rule on the scene toolbar to Single Curve, Connected Curve, or Tangent Curve.
- Select the first edge as an input for the command. Do not use the following selection methods to select the first edge: Lasso, Rectangle, Circle, 3D Box Selection. When you click Select Predicted Objects on the scene toolbar, NX automatically selects all the predicted edges as inputs for the command. NX highlights the selected edges in the Selection color.
Note:
You cannot use Select Predicted Objects for the following parts and geometries:
- Parts within an assembly.
- Parts with more than 50000 objects, such as edges, and faces.
- Imported geometries.
You can save imported geometry as NX part and then use Select Predicted Objects. Select Predicted Objects appears disabled on the scene toolbar when NX cannot predict high probability objects for any parts or geometries.
The Select Predicted Objects option saves you time. It lets you avoid multiple pan, zoom, and rotate
operations while selecting all objects
Assembly Line Planner: Support for Multiple Operation Types
Area: Support for multiple operation types
Supporting Various Operation Types
In Assembly Line Planner, using the Teamcenter preference ALP_SupportedOperationTypes, you can:
- Support the new default operation types, such as discrete and continuous join operations, in addition to standard operation types (such as MEOP).
- View the operations, as NX loads and fully displays them. You can also change the operation types.
- Create a customized operation type and overwrite default values.
You can now use the additional default operation types in your line layout, saving you the time to
redefine them.
Area: Manage Station Detailing Preferences centrally
Working with station detailing preferences
In Assembly Line Planner, you can:
- Support the operation types, such as discrete and continuous join operations, in addition to the standard operations (MEOP).
- Create or modify an operation in Assembly Line Planner and save it to Teamcenter, regardless of the operation type.
- Edit an existing operation, with the operations from the same defined category.
- View the operations as NX loads and fully displays them. You can also change these operation types.
- Define the new operation as Undefined, if the operation is created in another tool and there is no default type available for this category in Teamcenter.
- Publish the preferences to Teamcenter and make them available for all users, using the Publish Preferences option.
You can now use the default operations types and easily customize the operation types for the existing
operations
Area: Maintain Us er interface when switching modes
Whats New: Saving the layout views
In Assembly Line Planner, you can now:
- Save the layout views, using the Save Layout shortcut menu option.
- Reset to a default layout view set by the installation or the administrator.
- Maintain a customized view for each planning task
Now you can define a complex layout view that NX changes for each mode (Resource Planning, Line
Planning, Station Detailing), and save your preferences. You can also reset your view to a default layout
view.
Area: Support for multiple METargets
Product Navigator columns
Use the Product Navigator columns to display the component information of in a plant structure. You can display both default and user-defined columns.
The following table shows the default columns that you can see in the Product Navigator window. You can see the column names in the order in which they appear in the Column Configuration dialog box, for the Product Navigator.

Station Navigator columns
Use the Station Navigator columns to display information about station components and manufacturing features in a plant structure. You can display the default columns.
The table shows the available default columns that NX displays in the Station Navigator. You can see the column names in the order in which they appear in the Column Configuration dialog box, for the Station Navigator.
Manufacturing Feature

CAM: Milling Feeds and Speeds Workflow Change
The workflow to change the feeds and speeds for an operation has changed. If only one Calculate Feeds and Speeds based on this value button is active, you must click it to update the feeds and speeds value
Line Designer: Connector Enhancements
Area: Default Connector (Connector Enhancements)
Connector enhancements
Line Designer now supports the creation of default connectors on the components. You can now:
- Define a connector of the given compatibility type as a default connector for a component. You can change the default connector using the Edit Connector dialog box. Once you edit a connector, you have an option to define it as a default connector.
- Use the default connector of a compatibility type for a source component, when you drag the component from the Reuse Library to a target component. If the source component has multiple connectors of a given compatibility type, that are compatible with the connector type on the target component, NX uses the default connector on the source component.
- Use the default connector type for a source component when you replace the source component with another component, to connect with the connector on the target component.
- Change the priority of the compatibility type of a connector in the Compatibility Type list, in the Edit Connector dialog box.
You can now define the default connector for a component in Line Designer. This helps you quickly place a component from the Reuse Library and connect and position it with a target component in the graphics window.
Area: View list of connections (Connector Enhancements)
Connections list in the Plant Navigator
Line Designer now supports viewing the list of connections in the Connections panel, in the Plant Navigator.
Once you select a connector from the Connections panel, you can:
- View information about the connector:
.. Whether it is a default connector.
.. The connector's status as connected (green box) or not connected (red box), and the name of the component to which it connects.
- Edit a connection of a connector, if the connector has connections with another component, using the Edit Connection shortcut menu option.
- Edit the connector parameters in the Connectors list, using the Edit Connector shortcut menu option.
- Delete the connector from the Connectors list, using the Delete shortcut menu option.
- Disconnect the connector from another connector, using the Disconnect shortcut menu option, in the Connectors list.
- View the attachments created in the Process Simulate as bond connections in the Attachments list.
You can view all the connectors in a layout in one place. This helps you to see the type of connections and the relevant information of a connector in more organized way.
Area: P lant Simulation - - Native Exchange Updates
Using native plant layout data in Plant Simulation
In native NX, using the Export to Plant Simulation command, you can export plant layouts with JT data, the xml, and relevant attributes. You can use the shared attributes in Plant Simulation to add the required data to the simulation model automatically.
In native NX, you can now:
- Use the existing part file names to name the JT data. NX automatically replaces the spacing between the names of the part file with the underscore (_) character.
- Export the plant layout with all relevant part attributes, in xml format.
- Create a unique package file that contains the JT data and the part attributes in xml format.
You can now author Line Designer plant layouts in native NX to use in Plant Simulation. This helps you to automatically and quickly create a model in Plant Simulation.
Area: Package Library Updates
Working with the Reuse Library
Line Designer in native NX now includes a separate English (inches) unit library, so you can add your English unit components from the Reuse Library and reuse them in your layouts.
In Line Designer, in native NX, you can now:
- Add English resources to the layouts. You can author your layouts in English units, using the Reuse Library components.
- Access the separate library in native NX for components that use English units of measurement.
- Access frequently used industry-specific components, such as conveyors and robots, that are available now in English units in the Reuse Library.
You can save time by using components that were created with English units of measurement. This lets
you avoid duplicating useable components.
You can also use these components as reference parts and quickly author the custom components in a
layout. This helps you to save time when you create layouts.
Area: Assembly PMI
Whats New: Using PMI in a layout
Line Designer now supports showing the Product and Manufacturing Information (PMI) in the plant layout. You can now:
- Display the PMI of all components in a layout, using the Enable Assembly PMI command. NX creates assembly filters to show the PMI in an assembly.
- switch the PMI display of an assembly through the shaded model, using the Display PMI through Shaded Model command.
- Add the PMI occurrence note to a component, using the Add PMI Occurrence Note command. NX adds the occurrence note to the immediate parent of the selected component. The occurrence notes are available only in the context of an assembly.
- Represent the regions for safety and clearance zones, aisles, elevated surface, and so on, using crosshatching.
You can easily share the PMI information with manufacturing, assembly planning, and processing the manufacturing workflow.
1965,8429037,Selected Extract geometry (Sheet & Solid) not highlighting in 3D space,DESIGN,SELECT_INTENT,BODY
1965,8456156,CAM Gouges from NCM in Contour_Area with Use_3DIPW,CAM,SURFACE_CONTOUR,NON_CUT_MOVES
1965,8461053,Hidden feature (pre)selected by NX,DESIGN,SELECT_INTENT,BODY
1965,8461083,Error during import analysis stamping,KDA,FEATURE2COST,STAMPING_COST
1965,8464861,"JT105 in NX (RNI Read, Minimally Load): Poor Load Performance & High Memory Co",GATEWAY,OPEN_JT,SMART_LW
1965,8465464,oper/retrve Grip Function doesn't Work anymore,CAM,GRIP_NC,ALL
1965,8466844,Ordinate Dimension values are changed performing Export 2D Exchange,TRANSLATOR,UGTO2D,EXPORT_DRAFTING
1965,8468426,Compare Objects - Operations - Unnecessary and confusing information output,CAM,OPERATION,OTHER
1965,8468428,Compare Objects - Operations - Internal Error,CAM,OPERATION,OTHER
1965,8468863,GSO STpre: deselected option on MATV and ATV contribution output,CAE,ADV_SIMULATION,FE_ASSY_VRTICAL
1965,8566945,GSO Composer : incorrect work of SEAMWELD,CAE,ADV_SIMULATION,CONNECTIONS_UNI
1965,8566948,GSO Composer : Double ring option is not available with Bolt Cons,CAE,ADV_SIMULATION,CONNECTIONS_UNI
1965,9220482,"""Unable to reference face"" adopt from JT after transformation matrix change",SHIP_DESIGN,STEEL_FEATURES,PLATE
1965,9680430,Not possible to click OK within operation dialog after convert to explorer style,CAM,OPERATION,OTHER
1965,9845839,General graphics builder error occurred. Error number 44000002,TC_FEATURES,RESOURCE_MGR,AUTO_ASSEMBLY
1965,9870433,General Graphics Builder Error Occured,TC_FEATURES,RESOURCE_MGR,AUTO_ASSEMBLY
1965,9880405,Outputfile generated by Omnimesh contains Sheetbody,OMNICAD,DIE_ENGINEERING,OMNIMESH
1965,9905295,GSO ST: Not to export Contributions,CAE,ADV_SIMULATION,FE_ASSY_VRTICAL
1965,9910371,User defined Punch Pocket Color,KDA,DIE_ENGINEERING,PUNCH_PROG
1965,9913338,GSO: export the multi-instance PID merge,CAE,ADV_SIMULATION,FE_ASSY_VRTICAL
1965,9915200,STP File could not be imported in NX1942,TRANSLATOR,STEP_AP214,IMPORT_GEOMETRY
1965,9923606,"Parallel Generate Error in Managed Mode: ""Part is not currently loaded""",CAM,TC_MFG,OTHER
1965,9926189,Creation: Geometrical set translated incorrectly,CAE,ADV_SIMULATION,FE_ASSY_VRTICAL
1965,9932353,Quick Pick showing hidden features,DESIGN,SELECT_INTENT,BODY
1965,9935127,Edit Object Display performance (Ctrl + J),SYSENG,UI_TOOLS,UI_TOOLS
1965,9935206,Results Probe not working as intended,CAE,ADV_SIMULATION,POST_OTHER
1965,9940451,Flexpipe: Erroneous measurements and other issues,FLEXIBLE_PIPE,GENERAL,ALL
1965,9948195,Export translation of NX drawing to IGES seem to hang / never finish,TRANSLATOR,IGES,EXPORT_DRAFTING
1965,9948581,Definition of welds (nominal / notch stress) & import cdb in Ansys 19.1,CAE,ADV_SIMULATION,ANSYS_IMPORT
1965,9949267,Collision__ AREA_MILL,CAM,AREA_MILL,ALL
1965,9950193,GSOModif: failed to import prt file,CAE,ADV_SIMULATION,FE_ASSY_VRTICAL
1965,9950594,Blinking assembly in the graphics window when adding Die Design standard part,KDA,DIE_DESIGN,STD_PARTS_MGT
1965,9952996,2D Plot: TPA partial sum plot doesn't work well,CAE,ADV_SIMULATION,NVA_APL_POST
1965,9953736,Inconsistent behavior in Assign Weld PMI between versions,KDA,WELD_ASSISTANT,AUTO_WELD_SYMBL
1965,9955538,PMI doesn't update when related tracking updates,DESIGN,ARCHITECTURE,SMART_OBJECTS
1965,9955947,Structure Welding: Multi body/ edge selection needed,KDA,WELD_ASSISTANT,WELDING_JOINT
1965,9955963,Mesh update is triggered if we add attribute.,CAE,ADV_SIMULATION,MESH_3D_TET
1965,9956250,Check Geometry not being ignored when collision check is used and check geometry,CAM,AREA_MILL,ALL
1965,9956506,FAB PMI when disassociated gets display as if RETAINED ANNOTATION,KDA,WELD_ASSISTANT,AUTO_WELD_SYMBL
1965,9956552,Margin of safety error in Ply analysis,CAE,ADV_SIMULATION,AERO
1965,9957786,Reference Standard part issue with Integration with Teamcenter.,KDA,MOLDWIZARD,STANDARD_PARTS
1965,9957789,"PDW with Teamcenter, creating staged parts wizard creates _top assembly adds to",KDA,PROGRESSIVE_DIE,PROJECT_INITIAL
1965,9957791,Mold and Die bases are not coming in with Teamcenter,KDA,PROGRESSIVE_DIE,ALL
1965,9961202,Support one tight type only Collar Plate,SHIP_DESIGN,STEEL_FEATURES,COLLAR_PLATE
1965,9961445,oper/retrve Grip Function doesn't Work anymore,CAM,GRIP_NC,ALL
1965,9965228,Mold Wizard Standard Part Management UI dropped Position MATE option,KDA,MOLDWIZARD,STANDARD_PARTS
1965,9965563,Automatic update of Feeds & Speeds not working properly,CAM,OPERATION,OTHER
1965,9966115,Holemaking - Approach/Departure Change after Opening the Part in NX1953,CAM,DRILLING,NON_CUT_MOVES
1965,9966581,Keyopt export,CAE,ADV_SIMULATION,ANSYS_EXPORT
1965,9966779,Wrong Item ID for the PDW top assembly,KDA,PROGRESSIVE_DIE,PROJECT_INITIAL
1965,9967341,SpecDur - Material Converter doesn't convert some material properties,CAE,ADV_SIMULATION,DUR_SPEC_UI
1965,9967967,Disable dialog memory for Tilt Angle and Shear Angle in End Cut - Addition Input,SHIP_DESIGN,STEEL_FEATURES,END_CUT
1965,9968270,Visibility and Scaling issues with NX 1953/1957,NXMANAGER,TC_PORTAL,SEND_TO_NX
1965,9968603,Active grid part not set update will cause grid or position information to lose,DRAFTING,SHIPBUILDING,FRAMEBAR
1965,9970559,Generate QR/Bar Code fails with Invalid attempt to load library,KDA,ELECTRODE_DESGN,BOM
1965,9972121,Ship Mesh automation needs to support custom profile type,SHIP_DESIGN,TOOLS,MESH_AUTO
1965,9974234,NX: stdout now lists output in listingwindow.,CAM,TOOL_KIT,ALL
1965,9977801,Feature2Cost Stamping with progressive die not sending information back to TcPCM,KDA,FEATURE2COST,STAMPING_COST
1965,9977820,UI Error in Feature2Cost Molding Undercut area - Not expanding all undercuts,KDA,FEATURE2COST,MOLDING_COST
1965,9977933,Creation: prohibited characters,CAE,ADV_SIMULATION,FE_ASSY_VRTICAL
1965,9978147,Creation: Detected invalid panel paring information,CAE,ADV_SIMULATION,FE_ASSY_VRTICAL
1965,9978804,NX Tire Envelope Tool Not reading spindle file when Item ID typed,KDA,GENERAL_PACKAGE,TIRE_ENVELOPE
1965,9979295,Square Cut Bracket Toggle,SHIP_DESIGN,STEEL_FEATURES,BRACKET
1965,9979329,Crash exit when selecting boundaries in basic design transverse bulkhead,SHIP_DESIGN,BASIC_DESIGN,TRNVRS_BULKHEAD
1965,9980160,Clone Welds Structure welding: Weldjoint ItemID is getting added the Joint Prefi,KDA,WELD_ASSISTANT,WELDING_JOINT
1965,9980372,Restructure of single sided weld joints not working,SHIP_DESIGN,MANUFACTURING,MFG_PREP
1965,9981116,"Bug that full path is output when using ""Force Pre-Load""",CAE,ADV_SIMULATION,NASTRN_NX_EXPRT
1965,9982028,Assigned material yields zero density with environment variable set,CAE,ADV_SIMULATION,MATERIALS
1965,9982955,Spline constraint popup not displaying G1 G2 in 1892 & later,SYSENG,SELECTION,OTHER
1965,9985021,GSOCreation: QualityReport is incorrect output,CAE,ADV_SIMULATION,FE_ASSY_VRTICAL
1965,9985239,/ deletes part of the Component Name,ASSEMBLIES,ASSEMBLY_MODEL,COMP_PROPERTIES
1965,9987150,Compare Objects - Operations - not detecting Default Region Start,CAM,OPERATION,OTHER
1965,9987315,GSO: update report is not same order,CAE,ADV_SIMULATION,FE_ASSY_VRTICAL
1965,9990752,Planning Navigator - An operation was attempted on an invalid or unsuitable OM..,SHIP_DESIGN,MANUFACTURING,MFG_PREP
1965,9991313,GSO: deactive step length on Seamweld,CAE,ADV_SIMULATION,CONNECTIONS_UNI
1965,9995740,Fraction vs decimal display xml,SHIP_DESIGN,MANUFACTURING,MANUXML_OUT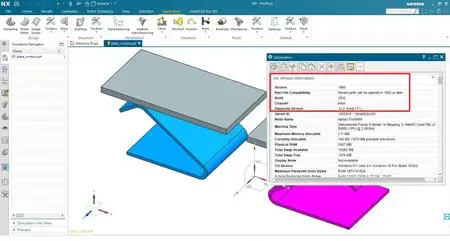 Siemens NXSeries software
is a flexible and powerful integrated solution that helps you deliver better products faster and more efficiently. NXSeries delivers the next generation of design, simulation, and manufacturing solutions that enable companies to realize the value of the digital twin.
Supporting every aspect of product development, from concept design through engineering and manufacturing, NXSeries gives you an integrated toolset that coordinates disciplines, preserves data integrity and design intent, and streamlines the entire process.
Siemens become the first major CAD/CAM/CAE vendor to deliver its software using Continuous Release methodology in January 2019. The new Continuous Release process significantly reduce the time between the proposal of a new enhancement, and its deployment to the end users. Customers will now have the opportunity to deploy the latest NXSeries productivity enhancements more quickly in their production environment which helps them become more productive when using NXSeries. In addition the Continuous Release will also reduce deployment costs for incremental updates.
Adopting a continuous release strategy also allows both Siemens and our customers to be more responsive to new ideas and trends in technology, once again allowing our customers to stay ahead of their competition.
NX1953: NX TDP Automatic BOM Table enhancements
Siemens Digital Industries
is an innovation and technology leader in industrial automation and digitalization. In close cooperation with our partners and customers, we are the driving force for the digital transformation in the discrete and process industries.
Product:
Siemens NXSeries
Version:
1965 Build 2502 (NX 1953 Series)
Supported Architectures:
x64
Website Home Page :
www.plm.automation.siemens.com
Language:
multilanguage
System Requirements:
PC **
Size:
15.8 Gb
Files save in the NX-1953 Series (NX-1953 and higher) cannot be opened in the NX-1026 Series and lower versions of the NX
Siemens.NX.1965.2502.Win64.Full.Setup.iso
Siemens.NX.1965.2502.Win64.Update.Only.iso
Minimum Operating Systems
- Microsoft Windows 10 (64-bit) Pro and Enterprise editions

Windows 10
Windows 10 is the minimum supported release for NX 1926. The supported versions of Windows 10 are the Pro and Enterprise editions utilizing Semi-Annual Channel (SAC) updates.
Windows 7 and 8.1
Windows 7 has reached the end of life and mainstream support has ended. Windows 8.1 is still supported by Microsoft, but was rarely deployed. These two versions of Windows are no longer supported by NX 1926. Siemens Digital Industries Software has not performed testing on these version and cannot resolve any issues related to NX 1926 running on these operating systems. If NX 1926 is deployed on these versions of Windows, any issues will have to be replicated on Windows 10 before filing an incident report with GTAC.
Windows XP and Vista
Windows XP support from Microsoft has ended and Vista was rarely deployed so these two versions of Windows are not supported by NX 1926. Siemens PLM Software has not performed testing on these versions and cannot resolve any issues related to NX 1926 running on these operating systems. If NX 1926 is deployed on these versions of Windows, any issues will have to be replicated on Windows 10 before filing an incident report with GTAC

Recommended System Configuration:
- 64-bit Windows 10 operating system
- 4 GB RAM minimum, 8 GB or 16 GB RAM recommended
- True Color (32-bit) or 16 million colors (24-bit)
- Screen Resolution: 1280 x 1024 or higher, widescreen format
Please visit my blog
Added by 3% of the overall size of the archive of information for the restoration

No mirrors please