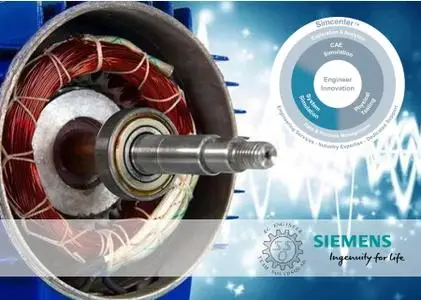 Siemens Simcenter SPEED 2020.2.1 | 470.1 mb
The Simcenter development team is pleased to announce the availability of Simcenter SPEED 2020.2.1, is an all-in-one specialized tool for the sizing and preliminary design of electric machines such as motors, generators and alternators.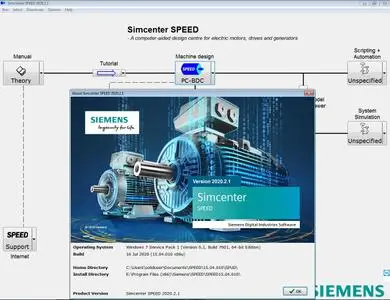 Simcenter SPEEDS
provides access to theoretical and physical models of most main electric machines classes (e.g. permanent magnet and electric excited synchronous, induction, switched reluctance, brushed DC, wound field commutator, and axial flux) along with their drives.
Additionally, Simcenter SPEED writes a pre-defined set of parameters and specific maps (e.g. flux linkages, loss and/or efficiency and thermal resistances/capacitances) which can be imported in Simcenter Amesim, supporting the system-level simulation of the e-machine integrated into its environment.
Simcenter SPEED - Increase your efficiency training
Siemens PLM Software.
a business unit of the Siemens Digital Factory Division, is a leading global provider of software solutions to drive the digital transformation of industry, creating new opportunities for manufacturers to realize innovation. With headquarters in Plano, Texas, and over 140,000 customers worldwide, Siemens PLM Software works with companies of all sizes to transform the way ideas come to life, the way products are realized, and the way products and assets in operation are used and understood.
Product:
Siemens Simcenter SPEED
Version:
2020.2.1 Build 15.04.010
Supported Architectures:
x86
Website Home Page :
www.cd-adapco.com
Language:
english
System Requirements:
PC *
Size:
470.1 mb
Simcenter SPEED Hardware Requirements
Simcenter SPEED can run on any hardware that supports Windows 7, 8, 8.1, and 10. The Simcenter SPEED software is 32-bit, but it can also run on 64-bit systems.

The minimum hardware requirements for running Simcenter SPEED are:
- Processor: 1 GHz
- RAM: 1 GB
- Hard disk space: 500 MB
- Display: screen resolution of at least 1024 x 768 pixels
Please visit my blog
Added by 3% of the overall size of the archive of information for the restoration

No mirrors please