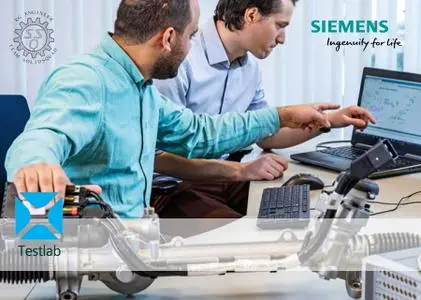 Siemens Simcenter Testlab 2021.1.0 | 8.6 Gb
The Siemens Digital Industries Software development team is pleased to announce the availability of Simcenter Testlab 2021.1. The last release offers test and simulation teams new capabilities to innovate smart products more productively under tight schedules.
Simcenter Testlab 2021.1.0 - Publish Date: February 1, 2021
Simcenter Testlab Neo

Realize new levels of testing productivity through process and technology innovation in Simcenter Testlab Neo, including completed workbooks for acoustics, durability, signature processing, reporting and data sharing.

Years of engineering experience are integrated into a new environment that offers greater productivity, more insights, increased confidence and easier collaboration.

The task-driven user experience in Simcenter Testlab Neo is designed for the novice and the expert, with a fully customizable process designer speeds up analysis, multi-disciplinary analytics support, and the capability to embed simulation models as part of any process flow. It also offers display panels, as well as intuitive and interactive graphs accelerate results interpretation.

Model-Based System Testing

Close the loop between test and simulation using faster simulation model validation through integrated model execution and simulation data processing with Model-Based System Testing (MBST).

Model-based system testing accelerates system testing at any development stage of the model-based development process. By integrating test and simulation in a single environment for product performance validation, the risks and costs of testing can be reduced, the productivity increased, and extra system insights can be gained.

MBST maximizes the consistency of used tools and methods while providing a highly agile mechatronic system engineering environment. It also enables attribute-specific evaluation using virtual models, combined virtual-physical models, and physical prototypes.

Digital Image Correlation

Accelerate structural dynamics testing with Digital Image Correlation (DIC), a new technique for measuring full-field 3D displacements, strains and vibrations, bringing a paradigm shift in materials and structures testing

The fast development of digital camera technology in combination with high-performant DIC techniques is currently bringing a paradigm shift in this domain. Thanks to DIC, it is now possible to extract full-field 3D geometry, displacement and strain information, under any load and for almost any type of material, with limited instrumentation.

Based on only a pair of cameras digital image correlation measures full 3D displacement and strain fields at ten thousand of points. Rely on our non-contact structures and material testing solution to reduce high-spatial resolution modal testing from days to a few hours. Increase confidence in your digital twin by providing a modal model with a spatial resolution equivalent to that of an finite element model.

Frontload full NVH synthesis

Frontloads full vehicle NVH analysis with component-based transfer path analysis methodology with improved component characterization methods and predictive NVH synthesis supporting performance evaluation of virtual prototype assemblies.

Predicting the in-vehicle noise contribution of components, such as powertrain, road, HVAC and steering system during early development, is tremendously challenging. To avoid endless design iterations, engineers need modular technologies that leverage measured individual component models into full-vehicle noise predictions.

This is exactly the scope of component-based TPA. The process starts by characterizing the source loads independently, based on acquired free velocities or blocked forces. Next, using sub-structuring techniques, engineers can study the component-level NVH performance without having to physically create the full vehicle in all its variants. Such early predictions help to avoid issues and allow a more realistic design target setting.

All in all, the new Simcenter Testlab 2021.1 software release offers test and simulation teams new capabilities to innovate smart products efficiently and optimize testing productivity.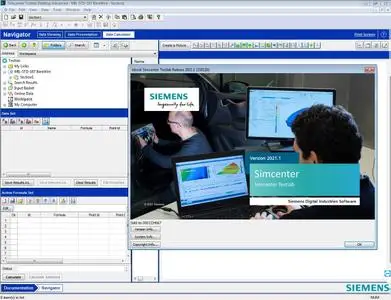 The Simcenter Testlab
allows engineers to asses and use test-based data throughout the entire product development phases, including design, engineering, validation and certification.
The Simcenter Testlab 2021.1 release offers test and simulation teams new capabilities to optimize testing productivity and innovate smart products more efficiently.
What's new Simcenter Testlab 2021.1
Siemens Digital Industries Software
is driving transformation to enable a digital enterprise where engineering, manufacturing and electronics design meet tomorrow. Our solutions help companies of all sizes create and leverage digital twins that provide organizations with new insights, opportunities and levels of automation to drive innovation.
Product:
Siemens Simcenter Testlab
Version:
2021.1.0
Supported Architectures:
x64
Website Home Page :
www.plm.automation.siemens.com
Language:
english
System Requirements:
PC *
Size:
8.6 Gb
Recommended PC Hardware

This is the configuration used by Siemens for benchmarking and quality testing:
- DellPrecision 7550
- DellPrecision T3620
Depending on the type of processing or measurement, it is recommended to have a fast disk or to have enough memory. Onaverage, you need:
- Hard disk 7200 RPM or SSD
- 16 GB RAM
- Intel Corei7 cpu or equivalent

Windows Operating System
Simcenter Testlab 2021.1 is supported on Windows 10 Enterprise x64 and Windows 10 Pro x64 versions. Versions N or KN of the windows 10 operating system are not supported. This includes Windows 10 Enterprise N, Windows 10 Enterprise KN, Windows 10 Pro N and windows 10 Pro KN. Those versions are missing crucial components to install and run the software. Also not supported are 32 bit versions of Windows.

Windows 10 Pro Education and the Windows Home version was not tested

Note: Software testing has been done on Windows 10 Enterprise versions 1803, 1809 and Windows Pro 2004

Simcenter Testlab 2021.1 is also supported on Windows Server 2012 and Windows Server 2016 for the analysis applications. When starting the Simcenter Testlab installation program on Windows Server 2012 or Windows Server 2016, the product selection tree will contain only the analysis applications. Doing measurements with a frontend is not supported. Note that the installation on Windows Server 2012 and Windows Server 2016 required different prerequisites. To install those, several reboots might be needed.

Interoperability with Microsoft Office (Word and PowerPoint)
Testlab supports interoperability with Microsoft Office 2010, Office 2013, Office 2016, Office 2019 and Office 365 Pro Plus. Office Online, the web-based variant of Officeis not supported.
Please visit my blog
Added by 3% of the overall size of the archive of information for the restoration

No mirrors please