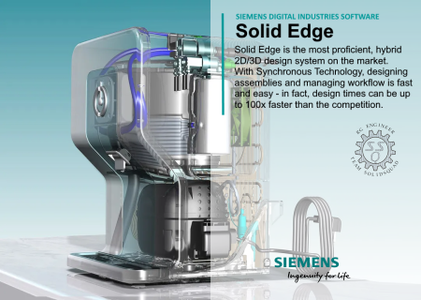 Siemens Solid Edge 2022 MP07 | 352.7 mb
Languages Supported: 中文 (Simplified), 中文 (Traditional), Čeština, English, Français, Deutsch, Magyar,
Italiano, 日本語, 한국어, Polski, Português-Brazilian, Русский, Español
Siemens Digital Industries Software is pleased to announce the availability of Solid Edge 2022 MP07. The 2022 release added embedded rules-based design automation, greater capabilities to work with point-cloud, mesh and imported data without the need for translation alongside new tools to for 2.5 axis machining and ultra-efficient upfront fluid flow simulation.
===API===
PR 10280511: The time required to create 3D lines is lots more as compared to NX
PR 10302530: multi-edge flange API problem
PR 10349224: Property IncludeVisibleConstructions does not work with SePvAdp command

===Assembly===
PR 10259234: problems with multiple bodies in an adjustable part
PR 10328410: problems with an Adjustable Part when driven by a formula
PR 10334205: some parts with features on them do not show up in an assembly
PR 8494288: Electrical Routing - Properties wire
PR 10350959: Patterns of new assembly features sometimes disappear
PR 10324810: Assembly is destroyed on save as parts are misplaced
PR 10306907: Generating standard parts using Part Finder causes an error with custom item type
PR 10360662: "Coincident Reference Plane" not following Part

===Draft===
PR 10335516: Poor performance when editing draft
PR 10290617: Excluded items will be included again after renaming the assembly file
PR 10359155: Parts List is only highlighting one occurrence
PR 10228338: Callouts are unexpectedly and strangely repositioned after Copy & Paste
PR 10362250: Some drawing views cannot be copied/pasted
PR 10299912: Thread pitch increases 1,000 times when using callout input %TP
PR 10336281: The 'Align offset' of the 'Line Up Text' command is no longer applied

===General===
PR 10222902: Template not opening if opened from "New Shortcut" in the start menu
PR 10252000: It is not possible to transfer weld seams to the simulation geometry
PR 10341656: Can't load Geometric Design 2022 study to Geometric Design Pro 2023
PR 10360408: Theme makes Solid Edge crash

===Part/Profile/Sheetmetal===
PR 10325280: Trim Corner command does not acknowledge ESC key to cancel and return to Select
PR 10350073: Face Style scaling issue when set to World scale and surface changes

===Teamcenter Integration for Solid Edge===
PR 10225630: Cannot add space for custom properties the first time

===Translators===
PR 10299630: Inventor data migration: The feature control frame symbol in a draft file is wrong
PR 10299651: Some hole center marks were missed
PR 10299652: Inventor data migration: get wrong symbols in Solid Edge draft file
PR 10313033: PMI from CATIA using Step AP242 / AP214
PR 10315147: Weldment (PWD) models are not being displayed in the Solid Edge Mobile Viewer
PR 10225697: PCB Collaborator Changes IDX import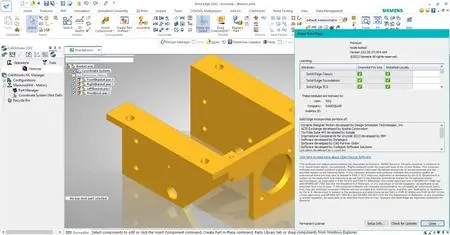 Solid Edge
is a complete 3D CAD system that uses Siemens Synchronous Technology for accelerated design, faster revisions, and better imported re-use that helps companies design smarter.
The Solid Edge portfolio is an integrated set of powerful, comprehensive, and accessible tools that advance all aspects of the product development process. Solid Edge addresses today's complexity challenges with automated digital solutions that cultivate creativity and collaboration. By harnessing the latest innovative technologies in mechanical and electrical design, simulation, manufacturing, publications, data management and cloud-based collaboration, using Solid Edge dramatically shortens time-to-market, provides greater production flexibility, and significantly reduces costs with its collaborative and scalable solutions.
Packed with more than 500 new features and enhancements, Solid Edge 2022 is engineered to grow your business – supporting modern product development processes, allowing you to do more with your resources and enabling new ways of working. New features and enhancements in this release are engineered in response to feedback received directly from Solid Edge users, making this one of the most exciting releases yet.
Introducing Solid Edge 2022 — Engineered to grow your business | Launch Event
The next evolution of Solid Edge is here. Be among the first to experience what's new in Solid Edge 2022.
Siemens Digital Industries (DI)
is an innovation leader in automation and digitalization. Closely collaborating with partners and customers, DI drives the digital transformation in the process and discrete industries. With its Digital Enterprise portfolio, DI provides companies of all sizes with an end-to-end set of products, solutions and services to integrate and digitalize the entire value chain. Optimized for the specific needs of each industry, DI's unique portfolio supports customers to achieve greater productivity and flexibility. DI is constantly adding innovations to its portfolio to integrate cutting-edge future technologies. Siemens Digital Industries has its global headquarters in Nuremberg, Germany, and has around 75,000 employees internationally.
Product:
Siemens Solid Edge
Version:
2022 MP07 (222.00.07.04)
Supported Architectures:
x64
Website Home Page :
www.plm.automation.siemens.com
Languages Supported:
multilanguage
System Requirements:
Windows *
Software Prerequisites:
Siemens Solid Edge 2022 and above
Size:
352.7 mb
Siemens Solid Edge 2022
Please visit my blog
Added by 3% of the overall size of the archive of information for the restoration

No mirrors please