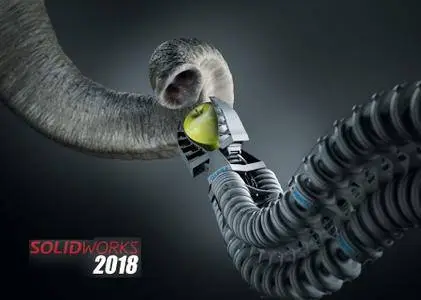 SolidWorks 2018 SP1.0 | 14.4 Gb
Dassault Systèmes has released an update to SOLIDWORKS 2018, the latest release of its portfolio of 3D design and engineering applications. SOLIDWORKS 2018 features an integrated, end-to-end solution for the design to manufacturing process that enables businesses of any size to rethink their approach to how parts and products are made and quickly bring innovative ideas to market in today's experience economy.
SOLIDWORKS 2018 SP1.0 Release Notes:
- Autodesk Inventor 2018 Files
You can open Autodesk Inventor 2018 files in SOLIDWORKS 2018 SP1.
- Open Drawing Tool
The Open Drawing tool is now available in the File menu. You can customize the tool for mouse gestures and keyboard shortcuts. The toolbar button is also available in Tools > Customize > Commands in the Standard category.
- SOLIDWORKS Manage
SOLIDWORKS Manage is an advanced data management system that extends the global file management and application integrations enabled by SOLIDWORKS PDM Professional. For more information, see SOLIDWORKS Data Management Release Notes.
- SOLIDWORKS Manage Installation Help
The SOLIDWORKS Manage installation help in the Installation Guide for SOLIDWORKS PDM and SOLIDWORKS Manage has some errors and omissions. For the most up-to-date information, see Solution S-073628 in the Knowledge Base.
- SOLIDWORKS Simulation
There are certain limitations with post-processing of results from linear dynamic studies:
. For all linear dynamic study types except Modal Time History:
Results for von Mises stress are listed inaccurately when obtained in the following way from the List Results PropertyManager: Under Advanced Options, you enable Range and select Element's nodes, and under List Set, you select List von Mises Stress (VON). To get the correct von Mises results, select Nodes instead of selecting Element's nodes.
. For harmonic and random vibration studies:
The response graph plot for the resultant reaction force shows inaccurate results when first created. When you edit the same graph plot, the results are shown correctly.
. With mixed mesh (beams, shells, and solids) and the Nodal von Mises stress only (Faster) option selected in Result Options:
For all dynamic studies except harmonic: When you edit an existing response graph for beam stresses, the Result component list in the PropertyManager is blank for Y-axis. To view results, select the stress component.
For the full list of new and improved features
here
, and fixed bugs please refer to the release notes located
here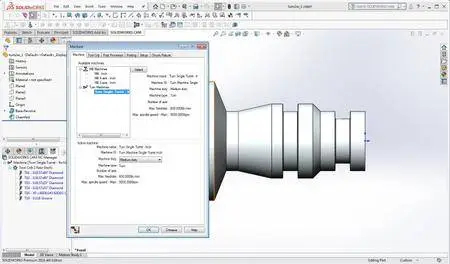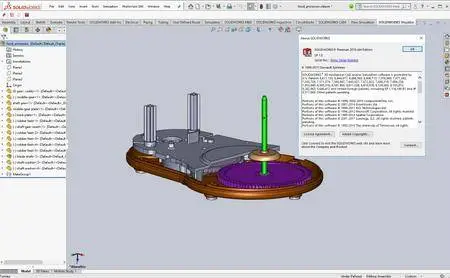 About Dassault Systemes SolidWorks 2018.
Great products begin with great designs — from concepts to manufactured parts and assemblies. SOLIDWORKS 2018 provides new tools and enhancements to help you get your design to manufacturing faster, with higher quality and at lower costs. Take a look these at 8 new features and enhancements in SOLIDWORKS 2018 that will help accelerate innovation and grow your business.
- A New, More Intuitive User Experience
SOLIDWORKS 2018 supports freehand sketching with pen or touch on compatible devices. Mouse gestures have been increased to 12 from 8 and allow for printable lists of your shortcut so you can navigate SOLIDWORKS with the greatest of ease. Gestures are also printable for quick reference. With these new user interface enhancements, you can now design faster than ever
- SOLIDWORKS Inspection Support for MBD
With the enhancements in SOLIDWORKS 2018, you can now create inspection documentation directly from 3D models with Production Manufacturing Information, as well as from 2D drawings, PDFs, and TIFFs. SOLIDWORKS Inspection is now integrated with SOLIDWORKS PDM, and supports SOLIDWORKS part and assembly files (*.sldprt, *.sldasm), as well as nonnative 3D CAD formats.
- Generative Design for Better Part Geometry
Utilize the SOLIDWORKS Simulation Topology Study tool to automatically optimize the shape of a design based on weight, function, and manufacturing criteria. Improve performance or reduce product weight based on simulation and manufacturing constraints. By specifying the type and magnitude of loads, generative design will determine the mass of material that is truly necessary for your application.
- Work Directly with Mesh Data and Gain More Flexibility with 3D Interconnect
Work with mesh data similar to surface or solid geometry. Combine, intersect, split, move/copy, cut with surface, and check for interference. In addition, quickly fit surface bodies to regions of mesh models.
Seamlessly work with more file formats including ACIS, STEP, and IGES, and automatically update your design whenever new files are received. In addition, 3D Interconnect now supports internal file information like custom properties, materials properties, and reference axes.
- Design Branching and Merging
Users are able to investigate different design approaches without impacting approved files with the new features in SOLIDWORKS PDM. The software also helps to streamline the process of working with external users. Branch and Merge is also effective for testing out new prototype designs. Simply branch off the original and let the creativity flow while the original stays safe in the vault.
- OLIDWORKS Manage for Project and Process Management
SOLIDWORKS Manage provides data management, project management, and process management all in one familiar package. It adds powerful project, process, and item management capabilities to SOLIDWORKS PDM Professional.
- Powerful Usability Enhancements for Electrical Routing
Routing is faster and easier with more detail than ever before. New features include drag and drop of in-line connectors and support for shrink-wraps and boots. Users can also now flatten a route in drawing with support for clips and disjointed routes.
- SOLIDWORKS CAM for CNC Machining
Users can now seamlessly integrate design and manufacturing with easy-to-use, world class CAM technology. Powered by CAMWorks, SOLIDWORKS CAM is production-proven, seamlessly integrated CAM for SOLIDWORKS that provides rules-based machining and automatic feature recognition to dramatically streamline, and even automate, CNC manufacturing operations.
About Dassault Systèmes SolidWorks Corp.
Dassault Systèmes SolidWorks Corp. offers complete 3D software tools that let you create, simulate, publish, and manage your data. SolidWorks products are easy to learn and use, and work together to help you design products better, faster, and more cost-effectively. The SolidWorks focus on ease-of-use allows more engineers, designers and other technology professionals than ever before to take advantage of 3D in bringing their designs to life.
Product:
Dassault Systemes SolidWorks
Version:
2018 SP1.0
Supported Architectures:
x64
Website Home Page :
http://www.solidworks.com/
Language:
multilanguage
System Requirements:
PC
Supported Operating Systems:
Windows 7even SP1 or newer
Size:
14.4 Gb
Please visit my blog
Added by 3% of the overall size of the archive of information for the restoration

No mirrors please