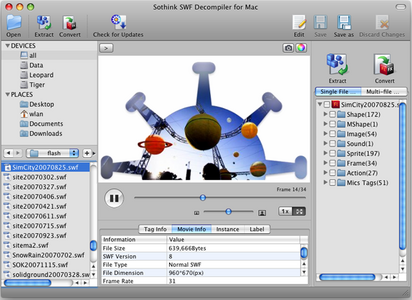 Sothink SWF Decompiler 6.4.986 | MacOSX | 14.89 MB
Most professional and stable SWF Decompiler for Mac helps you precisely convert SWF to FLA, FLEX SWF to FLEX source files, or Flash to HTML5 files. You can also extract SWF elements or make simple SWF modification.
- Recommended by engineer of Adobe Flash on theFlashBlog;
- Grown for 10 years, follow up each Adobe Flash upgrade;
- High SWF decompile precision.
What SWF Decompiler for Mac Can Do for You?

Recover FLA
Easily recover lost FLA from existing SWF files, or recover Flex source files from Flex SWF.
Extract SWF Elements
Enrich your own design resources by extracting preferred SWF elements from SWF files.
Fast Edit SWF
Simply make new Flash movies by changing image, text, sound or shape for existing SWF files.
Support Mobile Devices
Convert Flash to HTML5 thus no need to worry about playing Flash movies on iPhone or iPad.
Home Page
-
http://www.sothink.com/product/flash-decompiler-for-mac/index-1.htm