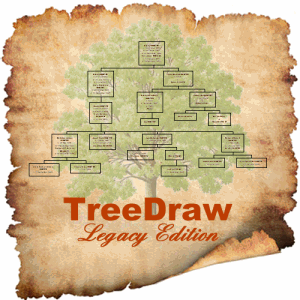 SpanSoft TreeDraw Legacy Edition 4.4.2 Portable | 6.2 Mb
TreeDraw is a genealogy software package for producing high quality genealogy charts. Family trees are imported into the software from "Kith and Kin Pro" databases or from GEDCOM files produced by other genealogy programs. After importing the tree data, you can re-arrange the tree and add extra text and graphics before storing, printing or creating a PDF file.
Features
• Import descendant and ancestral trees from Legacy Family Tree.
• Charts are automatically formatted vertically or horizontally and can be left/top or center aligned
• Create large wall charts… great for display at family gatherings!
• Automatically replace specified text as it is imported.
• Update the chart text elements automatically to match any changes in the Legacy Family Tree family file.
• Add extra text, notes, titles, etc.
• Add pictures, images, clip-art, etc.
• Add simple graphics, lines, boxes, etc.
• Full control over fonts, color, size, shape and alignment of chart elements.
• Text enlargement magnifies text which is too small to read on the screen.
• Search the chart for specific text.
• Scaling tool makes it easy to fit the chart onto a specified number of pages.
• Export the chart to a metafile or bitmap file.
• Supports several date formats and languages.
• Full, on-line, context-sensitive manual.
• A free TreeDraw chart viewer is available so that other people can look at your chart files.
• Easy to use. Get your charts the way you want them… in minutes!
Home Page
-
http://www.legacyfamilytree.com/