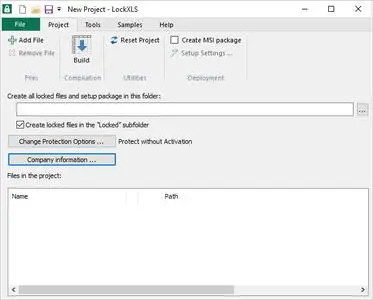 Spreadsheet Tools LockXLS 2020 v7.1.2 | 5.5 Mb
LockXLS makes formulas and VBA code unavailable to your customers, adds various registration options - generates hardware based Computer Code, creates Activation Code to unlock the workbook on your customer's PC, customizes the messages shown to customers during registration. The locked workbook may have a trial period and a splash screen. Also it will be converted to an application, which runs on Excel but has no other external dependencies making it easy to distribute.
Hide formulas and VBA Code
The user cannot get access to formulas in locked files, because all possible ways are blocked by LockXLS. LockXLS stores formulas and VBA Code in the encrypted format.
Convert Excel Workbook to application
Workbook can be compiled to executable file, which doesn't have external dependencies. It doesn't require any additional libraries to be installed on the customer's PC.
Add Copy Protection Options
You can apply different protection options to your Excel workbooks - Hardware-Based Activation Code, Password, Trial Period, Serial Number protection. Also, you can add End User License Agreement, Splash screen, Registration Reminder.
No programming required
You should not be a programmer to use LockXLS. This product is easy to use. It has very simple interface designed to quide you step-by-step to lock your files. Set of Sample Projects simplifies learning the product.
All Excel features are supported
Workbook compiled with LockXLS supports all Excel features. Your workbook should not be changed before compilation. Only, you want to use some advanced features, you should do some programming.
Create MSI package to deploy your workbooks
Your product looks professional with setup package, which has End User License Agreement, Banner image with your logo. Your product appears in the Add\Remove Programs list and could be easily installed\uninstalled.
System Requirements:
Vista, Windows 7 (32 bit and 64 bit), Windows 8 (32 bit and 64 bit), Windows 8.1 (32 bit and 64 bit), Windows 10 (32 bit and 64 bit)
Microsoft Excel 2003 or higher, including Microsoft Excel 2010 (32 bit and 64 bit), Microsoft Excel 2013 (32 bit and 64 bit), Microsoft Excel 2016 (32 bit and 64 bit), Microsoft Excel 2019 (32 bit and 64 bit).
Home Page
-
http://www.lockxls.com/