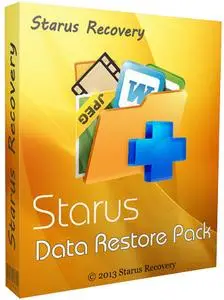 Starus Data Restore Pack 3.9 Multilingual | 93.5 Mb
Starus Data Restore Pack combining two of the best data restore software products into a single value-priced package. The Data Restore Pack is offered at a significant discount compared to the combined sale price of Starus File Recovery and Photo Recovery tools.
Fastest on the Market
At the time of this writing, Starus Data Restore Pack is the fastest data restore software on the market. Featuring new and improved disk analysis algorithms, the data restoration product can locate and list deleted files and folders in a snap. The performance is so high that we used Windows Explorer as a UI model for our product. With Starus Data Restore Pack, browsing deleted files and folders is as quick and easy as using Windows Explorer to browse the disk.
Dedicated Data Recovery Mode
Starus Data Restore Pack offers one quick and two dedicated file recovery modes. The "slow scan" mode helps locate files stored on corrupted, formatted and inaccessible disks (memory cards, flash drives, etc.) by reading the entire disk sector after sector. The "slow scan" mode allows restoring data from disks that are just about to fail, fix information from corrupted disks and deleted partitions.
Advanced Picture Recovery Mode
The second dedicated data restore mode is new to Starus Data Restore Pack, and involves a comprehensive scan of the disk in order to locate digital pictures and RAW files specifically. The pictures, once located, can be previewed before being recovered.
Step-By-Step Wizards
Starus Data Restore Pack offers fully guided, step-by-step wizards to make data restoration easy for even the least experienced users. The data restore wizards help choosing the right mode and configuring any settings.
Pre-Recovery Preview
What you see is what you get. Starus Data Restore Pack comes with a fully visual pre-recovery preview. Hundreds of file formats are supported including office documents, pictures and RAW files, compressed archives, email messages with attachments, music and video.
Operating System:
Windows XP, Vista, 7, 8/8.1, 10, 11
Home Page -
https://www.starusrecovery.com/