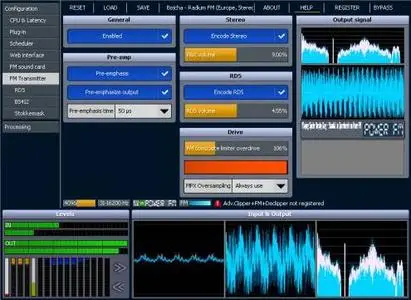 Stereo Tool v9.40 Multilingual + Plugin for Winamp | 102 Mb
Stereo tool is a software-based audio processor which offers outstanding audio quality and comes with many unique features. It is used by over 1500 FM stations ranging from small local stations to 50-100 kW stations and nation-wide networks with dozens of transmitters, thousands of streaming stations and many DAB+, HD, AM and TV stations. It can be used for both live and file based processing.
FEATURES:

FM TRANSMITTER FEATURES
Stereo Tool can generate an MPX signal, including stereo and RDS data, which can be sent to the FM transmitter using a good quality 192 kHz capable sound card. No separate hardware stereo coder or hardware RDS encoder is needed.
DECLIPPER
- Repairs clipped audio
- Removes distortion, restores dynamics
- Also used by police forensics labs
DELOSSIFIER
Improves the sound of MPEG2/MP3 style lossy compressed files
DEHUMMER
Removes unwanted constant sounds, such as a 50/60 Hz hum from bad cables
SPECTRUM CONTROL
Non-compressing spectrum equalization
COMPRESSORS
- Wideband AGC
- Two multiband compressors, 2-9 bands
- Wideband compressor
- Low level boost for classical music
STEREO WIDENING
Choice of multiple stereo wideners
LOUD & CLEAN!
- Upto 140% audio level at 100% modulation
- Gives 2-3 dB extra headroom for highs
- Be the loudest and cleanest station on the dial!
MULTIPATH
- Controls RF bandwidth to avoid reception problems
- Compatible with all receivers
- Stations report upto 30 km bigger reception area
STEREO / RDS
- Built-in stereo and RDS encoder
- RT+ and remote control support
Home Page
-
http://www.stereotool.com/