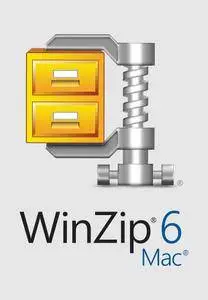 WinZip Mac Edition 6.0.3547 | 15 MB
New WinZip for Mac offers simple zipping and unzipping right from its new Files pane! Enjoy one-click access, multiple viewing layouts, drag-and-drop functionality, support for 12+ compression formats and easy file management!
New! Files pane
Zip, unzip, browse and manage local, network, and cloud files in WinZip instead of going back and forth between Finder and WinZip.
New! Zip from Files pane
Select files in the Files pane and with a simple click on the Add to Zip button, zip them to a new or existing Zip file.
New! Unzip to Files pane
Navigate to a folder using the Files pane—even one in the cloud—then with a simple click on the Unzip button, unzip the files in the Zip pane to that folder.
New! One-click access to local folders
Simple one-click access to local folders such as Desktop, Documents, and Downloads makes it quick and easy to unzip files to those folders or zip files within those folders.
New! Multiple viewing layouts
View your files in the Files pane in a layout that best fits your needs such as icons (great for images), list or columns (maximizes the amount of information displayed), and cover flow (to visually flip through snapshots of your files).
New! Drag-and-drop zipping from the Files pane
Drag a file from the Files pane and drop it onto the Zip pane to zip it. It's fast and simple.
New! Drag-and-drop unzipping to the Files pane
Drag a file from the Zip pane and drop it onto the Files pane to unzip. It's quick and intuitive.
New! Manage files from WinZip
Work seamlessly within WinZip to delete and rename files in a flash. Never leave WinZip—you can do it right from the Files pane.
New! Files pane context sensitive menus
Get information about a file, conduct a quick file lookup, check the contents of a package before installing it, open a file in the default app or an app you select, move the file to trash, or rename the file—all from the Files pane!
New! Expandable Files pane
Maximize the Files pane and temporarily hide the Zip pane to see more files and file information.
New! Most recently used Zip files
See a list, within the Files pane, of your five most recently used Zip files and reopen them with a simple click of the mouse.
New! Unzip more file types
WinZip can now unzip gzip files (.gz, .tgz), Unix tar files (.tar), Unix compressed files (.z, .tz, .taz), LZMA2 compressed files (.xz, .txz), BZip files (.bz, .bz2. .tbz, .tbz2), and Virtual Disk files (vdisk).
New! MP3 compression in Zipx
Get more space back on your Mac using the new lossless MP3 compression in WinZip's zipx format. MP3 files zip 15-20 percent on average and when you unzip them, you get back your exact files.
Enhanced! Zipx compression
The addition of LZMA2 support results in better compression, especially when zipping files that have some amount of compression already, for example, Microsoft Office files.
WinZip Mac 6 requires:
- Mac OS X 10.8 or higher
- Intel 64-bit processor
- Supports Apple Retina Displays
Home Page
-
http://www.winzip.com