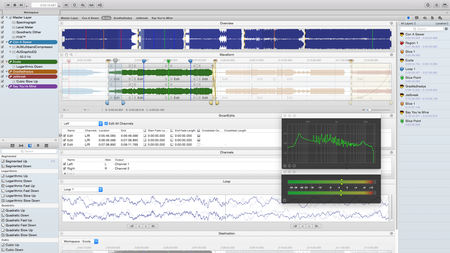 Triumph - Audio Editing, Mastering and Podcasting 2.5.11 MacOSX | 39 MB
Triumph is a pioneering audio editor and post-production tool developed by musicians and engineers for musicians and engineers.
From weekend podcast polishing to video game and motion picture sound design, professional mastering to workflow automation, Triumph is built to make your design and post-production more inspiring, expressive and efficient. Triumph organizes everything you need into one beautifully designed interface that stays out of your way, allowing your to focus on what you do best: designing audio.
DESIGN MORE INSPIRED SOUND
• Create and combine sounds in entirely new ways with patented audio layers feature
• Fully supports Audio Units plug-ins
• Eight beautiful and configurable meters including Level, VU, Lissajous, Correlation, Spectrogram and more
MASTER MORE POWERFULLY AND EFFICIENTLY
• Fully supports Red Book CD burning and DDP 2.0
• Includes our reliable DDP Player tool for quick and convenient playback and burning of DDP file sets
• Integrates industry-best Goodhertz sample rate converter and dither
• Supports the Loudness Range EBU R128 European broadcast standard
• Create "Mastered for iTunes" content with Triumph's Analog Simulation features
• FHX™ headphones processor for more natural headphone listening experiences
EDIT AND POLISH LIKE A PRO
• SmartEdits™ offer more flexible editing with fully adjustable properties like fade in and out, fade length and shape, name, color, and much more
• Layers save you time by keeping everything live and editable until the final product
• Apply edits, fades, automations and more with one click by using Actions
• Source/Destination editing via the Destination view and Destination Actions
• Create multiple Workspaces within your project, all referencing the same underlying audio assets
• Comprehensive support for industry-standard audio metadata including iXML
• Supports import and export of the Final Cut Pro X XML interchange format
STREAMLINE YOUR WORKFLOW
• Triumph has unprecedented AppleScript support with far more scripting capability than any other audio tool on the market
• AppleScript-based Actions are the core of Triumph's workflow
• Triumph features over 150 Actions that allow you to fully automate even the most complex parts of your workflow
• Create your own custom Actions to tailor Triumph to your specific workflow
REPAIR AND RESTORE
• Easily diagnose and repair malformed audio files with the First Aid tool
• Integrates iZotope restoration and repair tools including Declick, Denoise, Declip and Dehum
SHARE AND STORE PROJECTS
• Publish your music to SoundCloud directly from Triumph
• Connect to Dropbox and back up with Gobbler for secure file storage
• Email audio files and analysis reports directly from the app
• Exports MP3, AAC, Apple Lossless, FLAC, Ogg Vorbis, WAV, AIFF and more
BEAUTIFUL INTERFACE
• Beautifully designed user interface stays out of your way, allowing you to focus on what you do best: design audio
• Full support for Retina displays
• Supports Full Screen mode
Requirements
: OS X 10.10 or Later
Home Page
-
http://triumph.aurchitect.com/