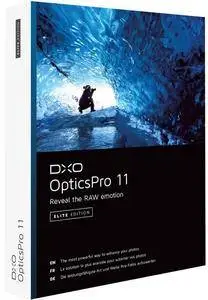 DxO Optics Pro 11.4.2 Build 12306 Elite Multilingual | 444 Mb
Thanks to DxO OpticsPro's exclusive technologies, instantly correct all the optical defects of your equipment, remove digital noise even at high sensitivities, recover fine details and textures in dark or burnt areas, and bring out all the nuances of color in your images. With DxO OpticsPro's outstanding performance, bring out the best in your RAW and JPEG photos in just a few clicks, regardless of shooting conditions.
DxO PRIME
The industry-standard noise reduction technology for RAW files. Images are rich in detail and bokehs are silky smooth, even at extreme ISO values. Try it with your most challenging photos… nothing else comes close.
DxO Smart Lighting
Leverage the full dynamic range of your images and recover fine details and textures in deep shadows and overexposed highlights. The new Spot Weighted mode uses face detection to apply an intelligent tone map on the entire image, add fill light, and improve contrast while optimizing illumination on faces.
DxO ClearView
Get rid of haze to bring out all the splendor of your landscape photos in just one click. Equally effective in removing smog from urban landscapes.
Upgrade your images without upgrading your equipment
With the precise knowledge of each and every camera and lens make and model, DxO OpticsPro automatically corrects all optical defects with an unrivaled level of quality.
An optimized workflow for an optimal user experience
Ease of use, power, and processing speed. The most important corrections are immediately accessible, and you can activate or deactivate them with a single click to see their impact. For slider virtuosos, DxO OpticsPro provides advanced control over every image processing parameter imaginable.
Benefit from all the advantages of a non-destructive workflow: export your DNG, TIFF and JPEG and files to other image management software such as Adobe Lightroom, or integrate the features of other DxO software (DxO ViewPoint and DxO FilmPack) as plugins. And if you want to share your best photos, you can publish them to Flickr or Facebook with a click.
DxO OpticsPro respects your photographic intentions: batch processing lets you apply the same settings to a series of images, all while adapting the automatic corrections to each photo's content, based on precise camera calibration data. Spend less time behind your computer, and more time behind the lens !
Home Page -
http://www.dxo.com/