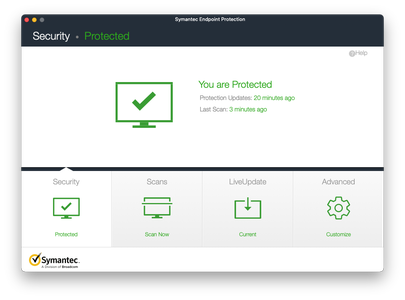 Symantec Endpoint Protection 14.3.8263.5000 Multilingual macOS | 89 MB
Languages: English, 简体中文, 繁體中文, Deutsch, Español, Français,
Italiano, 日本語, 한국어, Português, Português do Brasil
The world's most advanced single-agent endpoint security with prevention, detection and response, deception and adaptation. Symantec is positioned by Gartner as the highest in execution and furthest in vision in the Endpoint Protection Platforms Magic Quadrant.
Phish the Phishers with Deception
Detect attackers by luring them into a decoy minefield.
Reveal their intent, tactics, and targets—so security teams can pre-emptively adapt their security posture.
Set the trap as simply as flipping a switch.
Cage Your Vulnerabilities. Unleash Your Applications.
Auto-classify risk levels of all endpoint applications, whether or not they're in use.
Use application isolation to limit exploits.
Implement hardening in minutes with an intuitive cloud console.
Attack Your Stack to Kill Complexity
Detect and respond to threats anywhere by integrating SEP with network security infrastructure.
Built-in integration delivers prevention, Detection and Response (EDR), Deception, and Hardening with one single agent.
Use open APIs to coordinate with existing IT infrastructure for automation and orchestration.
Stronger, Faster, Lighter
Reduces bandwidth usage and definition file sizes by 70 percent compared to SEP 12.
Enables faster scanning times using our proprietary real-time cloud lookup.
Reduces IT resource use via automated updates to lower costs.
Content Analysis Integration – submit suspicious files for multilayered inspection, detection, and sandboxing
Roaming Client Visibility – receive critical events from clients that are off the corporate network
Multi-factor Authentication – integrate with Symantec VIP and PIV/CAC smart cards
IPv6 Compliance – support full compatibility with pure IPv6 networks
WSS Integration – redirect web traffic from roaming users to WSS using a PAC file
Mac Firewall – configure policies to control connection and application rules
Superior Protection – Advanced protection against emerging threats with signatureless technologies, such as advanced machine learning and behavioral analysis, and critical endpoint technologies such as intrusion prevention and firewall. Protections are fed by the largest civilian global threat intelligence network in the world.
High-Performance – A single, high-performance, lightweight agent reduces network bandwidth usage by 70% with smaller and less frequent definition file downloads to protect the business without slowing down end users.
Orchestrated Response – Easily integrate into existing security infrastructure like Proxy SG to maintain a high level of protection and speed response, quickly halting the spread of infection.
Seamless Migration – from previous versions of Symantec Endpoint Protection.