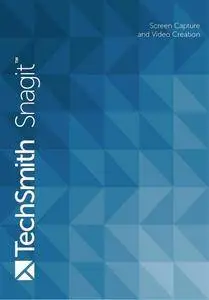 TechSmith Snagit 4.1.1 build 78096 | MacOSX | 89.9 MB
Create remarkable visuals. Reduce wasted time. Share important information. Visuals help clarify your message and get you hours back in your work day. Snagit is the premium tool for screen capture and screen recording on Windows and Mac. Combining traditional screenshots, videos, and image editing to help you share important information with the people who need it most.
Tame your inbox
Leave coworkers and clients wondering how you responded so quickly. Reply with marked up images and quick videos rather than text to drastically reduce your email back-and-forth.
Save time
Visuals are vital to online communication. Images and videos let you clearly get your point across so you can spend less time communicating and more time getting work done.
Capture key information
Save pieces from online articles, web pages, or documents. Highlight and take notes on top of your capture, organize your research by keyword, and share out crucial information.
Quickly capture images and videos of your screen.
Snagit's image and video capture is powerful, but not complex. You're in control of everything you capture, right down to the pixel. All-in-One Capture® grabs your entire desktop, a region, a window, or a scrolling window from any webpage or application—all with a single hotkey or click.
Scrolling capture
Quickly capture a full-page screenshot even if it's not showing on the screen. Grab the horizontal, vertical, or entire scrolling area with just a click.
Panoramic capture
Capture wide, horizontal scrolls, infinitely scrolling webpages, and everything in between. Capture once, instead of taking individual captures and manually editing them together.
Animated GIF
Turn any short recording into an animated GIF. Perfect for showing off quick tasks and workflows.
Get your point across. Mark up your screenshots.
Showing team members is a lot easier than telling them. Snagit has a dynamic editor that lets you turn plain screenshots or screengrabs into clear, concise communication. Comment over screenshots using text boxes. Point out your ideas with arrows and shapes. Or simply highlight key areas. And Snagit's toolbar is completely customizable so all of your favorite tools stay front and center.
What's New Version 4.1.1:
Fixed a "Copy All" truncation in the German user interface
Fixed a crash when drawing a text object
Fixed an issue with YouTube Shares not appearing in Share History
Fixed an issue where player controls would disappear when you open and then close the recent tray
Added support for more FTP custom code variables
Other bug fixes and performance improvements
Requirements:
10.10 (Yosemite), or higher.
Home Page
-
https://www.techsmith.com
No mirrors please