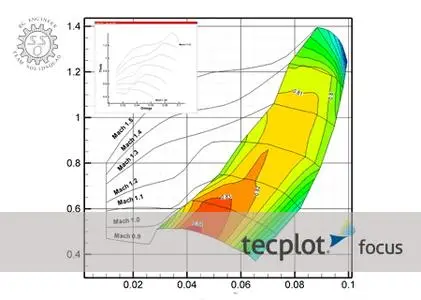 Tecplot Focus 2020 R2 (2020.1.0.110596) | 584.3 mb
The Tecplot development team is pleased to announce the availability of Focus 2020 R2 (2020.1.0.110596) is a powerful tool for visualizing a wide range of technical data. It offers line plotting, 2D and 3D surface plots in a variety of formats, and 3D volumetric visualization.
Tecplot Focus 2020 R2 - Release Date: December 9, 2020
-
Ability to split a zone into distinct connected regions
– A command has been added to the macro language to create new zones from isolated regions in one or more finite element zones.
PyTecplot: tecplot.data.extract.extract_connected_regions()
Macro: $!ExtractConnectedRegions
-
Reference variables by name
– Tecplot Focus can now save variables by name in macros, layouts, and stylesheets and use names when loading data and retaining the existing style. This capability must be turned on in the tecplot.cfg file. See:
$!Compatibility UseNamesForVariableAssignments = YES
Setting this to "YES" will instruct Tecplot Focus to save variable references by name instead of number. Note that if you have duplicate variable names or variable aliases Tecplot Focus will pick the first variable matching that name.
Bug Fixes and Minor Enhancements
- Edges are now drawn correctly for physically collapsed cells.
- Fixed issue with some dialogs on Windows would not close using the Close icon at the upper right of the dialog.
- Fixed issue in TecIO-MPI where .szplt output file corruption occasionally happened using certain versions of OpenMPI (issue was observed with OpenMPI 3.1.5 and may have affected newer versions as well).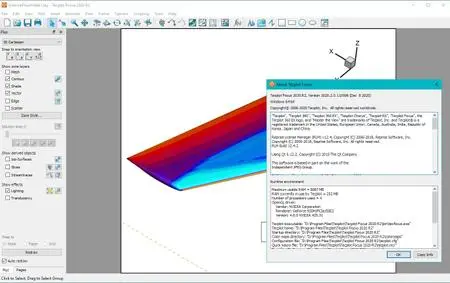 Tecplot Focus
is engineering plotting software with extensive XY, 2D and 3D capabilities. It is designed more for measured field data, performance plotting of test data, mathematical analysis, and engineering plotting in general. Tecplot Focus is based on Tecplot 360 EX, Tecplot's flagship visualization product, and has much of the same power. One of the key differentiators between Tecplot Focus and Tecplot 360 is that Tecplot Focus does not support CFD data formats, CFD analysis, and transient data.
Using MATLAB & TecIO to Read/Write Tecplot Data File Formats
An operating company of Toronto-based Constellation Software, Inc. (CSI),
Tecplot is the leading independent developer of visualization and analysis software for engineers and scientists. CSI is a public company listed on the Toronto Stock Exchange (TSX:CSU). CSI acquires, manages and builds software businesses that provide mission-critical solutions in specific vertical markets.
Product:
Tecplot Focus
Version:
2020 R2 Build 2020.2.0.110596
Supported Architectures:
x64
Website Home Page :
www.tecplot.com
Language:
english
System Requirements:
PC / Linux / macOs *
Size:
584.3 mb
Platform Requirements

Windows
Windows requires installation be run as administrator.
64-bit (x86-64) Windows 10
Mac
We recommend always installing the latest OS update (run Software Update to make sure you have the latest version).
64-bit (x86-64) 10.14 (Mojave), 10.15 (Catalina), 11 (Big Sur)
Linux
64-bit (x86-64) Red Hat Enterprise Linux (RHEL) 6.10, 7.5+, 8.0+, CentOS 6.10, 7.5+, 8.0+, SUSE Linux Enterprise Desktop (SLED) 15, Ubuntu 16.04 LTS, 18.04 LTS, 20.04 LTS

System Requirements
2GHz (64-bit) Processor
850 MB disk space and 4 GB RAM
Minimum display resolution of 1024 x 768
OpenGL accelerated graphics card
Please visit my blog
Added by 3% of the overall size of the archive of information for the restoration

No mirrors please