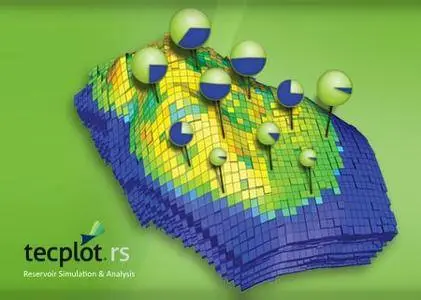 Tecplot RS 2017 R1 Build 2017.1.0.82356 | 276.4 mb
Tecplot, Inc., developer of the leading visualization and analysis software for reservoir engineers, announced the general availability of Tecplot RS 2017 Release 1.
- Recovery Maps
The addition of Recovery Maps give engineers a one-click method to calculate and visualize the percentage change of any variable relative to initial conditions. With this powerful functionality, engineers can quickly determine the effectiveness of their recovery mechanism. A visual representation of the recovery map helps reservoir engineers make more informed decisions on such things as well placement.
- RESQML Data Loader
RESQML is a standardized format that is output from the INTERSECT reservoir simulator. The new loader for RESQML data in this release will enable more efficient data sharing and collaboration of simulation results.
- Customer-Driven UX Improvements
Tecplot RS 2017 Release 1 continues the trend of improving user experience (UX) by reducing the number of clicks in typical workflows and making essential tools more easily accessible. Tecplot's 15-year history of consulting with industry leaders keeps each software release in sync with innovations at the forefront of oil & gas reservoir simulation.
Numerous UX improvements in Tecplot RS 2017 R1 include:
- Animation control buttons that allow scrolling through available timesteps for each entity in the RFT plot type. Similar to other XY dialogs, the animations can be exported.
- Axis zoom lock for XY plots are available in the sidebar. After zooming into a range, the x-axis can be temporarily fixed into the chosen range while stepping through entities.
- The time slider allows you to see changes in wells and bubbles over time, even when the displayed property is not static.
- A complete list of updates can be found on our website:
here
About Tecplot RS.
Tecplot RS helps users manage and analyze oil & gas reservoir simulation data, uncover knowledge about reservoir model behavior, and thereby gain confidence in making crucial decisions. The software allows users to evaluate a full range of results, including line graphs, 2D x-sections, and 3D grid plots. Tecplot RS, first released in 2002, supports x64 Windows and Linux platforms.
About Tecplot, Inc.
Founded in 1981 by former Boeing engineers Don Roberts and Mike Peery, who today serve as CEO and chairman of the board, respectively, Tecplot is the leading developer of CFD visualization and analysis software for engineers and scientists. Tecplot's products allow customers using desktop computers and laptops to quickly analyze and understand information hidden in complex data, and communicate their results to others via brilliant images and compelling animations. The privately held company's products are used by more than 47,000 technical professionals around the world.
Product:
Tecplot RS
Version:
2017 R1 Build 2017.1.0.82356
Supported Architectures:
x64
Website Home Page :
www.tecplot.com
Language:
english
System Requirements:
PC / Linux
Supported Operating Systems:
Windows 7even and above / Red Hat Enterprise Linux (RHEL) 6.5, CentOS 6.5, SUSE Linux Enterprise Desktop (SLED) 11.3, Ubuntu 12.04 LTS, 14.04 LTS
Size:
276.4 mb
Please visit my blog
Added by 3% of the overall size of the archive of information for the restoration

No mirrors please