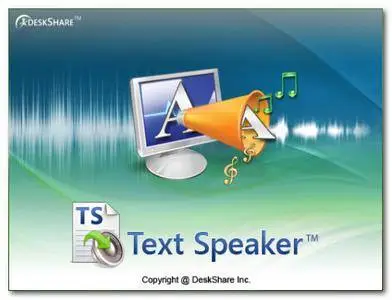 Text Speaker 3.26 | 18 Mb
Turn any text into audio with natural sounding voices. This text reading software can read your documents aloud in a clear, human-sounding voice, or you can convert them into MP3 files for listening anywhere. Text Speaker supports speaking in English, French, German, Spanish, Polish, and Romanian languages. Now you can hear documents spoken in your native language.
Have the computer "read aloud" any text on your screen. When you're proofreading, hearing the words aloud makes it easy to catch common typing errors. You can adjust the pitch, reading speed, and pronunciation to make the perfect listening experience.
Add background music of your choice. When converting a document into an audio file, Text Speaker can play an MP3 music file in the background along with the text it reads. Background music adds a real professional touch!
Since Text Speaker has word processing features, you can create and edit documents without the need for any other program. You can even edit and save Microsoft Word documents without needing a copy of Word installed.
Whether you're creating digital presentations or adding a voice to your Flash animation, use Text Speaker to create audio narration in a pleasant, human-sounding voice. No studio time or hourly fees to a voice actor—just turn your script into an MP3 or WAV file in seconds. When you change the script, you can update the audio narration just as fast! You can even make them sound like a conversation, by using multiple male and female voices in a single document. With Text Speaker, creating and changing spoken messages is as easy as editing a document.
Text to Speech
Listen to any text as spoken words in human-sounding voices
Proofread by listening to your document for getting a professional touch
Improve pronunciation of individual words using phonemes
Hear the text read aloud in any application with keyboard hotkey
High Quality Voices
Listen to the text in native language voices, including French, German, Spanish, Polish, and Romanian
Choose from a wide selection of high quality professional voices
Prepare interactive scripts by adding multiple voices within a single document
Word Processing Features
Open and read Microsoft Word (DOC and DOCX), RTF, PDF, HTML, and TXT files
Revise your text with in-built word processing features
Set bookmarks in your documents for easy reference
Convert Text to Audio
Convert text documents to MP3 or WAV files for listening anywhere
Create multiple audio files at a time with batch file conversion
Prepare study aids with audio outlines and listen to the key points
Advanced Features
Adjust reading speed, pitch, and volume for a smooth listening experience
Add background music when converting a document to a audio file
Set alarms with talking reminders to announce important events
Operating System: Windows 10 / 8 / 7 / Vista / XP / 2012 / 2008
Home Page
-
https://www.deskshare.com/