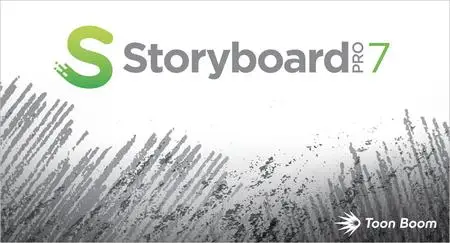 Toon Boom Storyboard Pro 7 v17.10.1 Build 15476 (x64) Multilingual | 268 Mb
New projects get green-lit when you can truly tell your story. Triggering a feeling, an excitement, conveying the dream to your audience. The more creative freedom and artistic power you can harness, the better the results of your storyboard. Welcome to Storyboard Pro 7! Storyboard Pro 7 is an all-in-one storyboard solution that combines drawing, scripting, camera controls, animatic creation capabilities and sound. Seamlessly integrating with Harmony, Storyboard Pro is the way to get your content off the ground quickly and easily.
Time Efficiency
Reduced time on process, import, export and switching allows for more time to go into your story
Combined drawing, video, images, animation, scripts and sound
Ability for collaboration (split project and merge back into master)
Output to Harmony or industry standard movie and other file formats
Cost Savings
Ability to work in one environment (end-to-end)
Notoriety
Award winning software, winner of Primetime Emmy
Used by major studios, artists, freelancers and students worldwide
NEW Features
Students, freelancers, artists and studios from around the globe are choosing Storyboard Pro to convey their messages for the latest content for TV, big screen movies, commercials, gaming, and more.
Industry-leading, improved stylus responsiveness
Digital has never felt (or looked) so traditional
New stabilizer for lines that are smoother than ever
Customizable stylus pressure responsiveness
Tilt and angle responsiveness
Stay on-point with new rulers and guides
Drawing accuracy made simple / Don't be square
Drawing ruler
4 point vertical pan and continuous perspectives
Fisheye (5 point perspective)
Isometric perspective guide
Camera and stage alignment guides
It's all about teamwork / Collaboration is the name of the game
Link projects to facilitate merge operation
Improved merge and replace (editor-artist pipeline)
Advanced control, sound editing
Set gain on audio clips
Synch audio and video tracks with panels
Drop audio files from an external file browser to the library or timeline
Advanced editing & efficiency
Import/export preferences & shortcuts
Export movie files (h264 compression without Quicktime)
Insert empty space between panels and scenes
Copy a layer from a panel to a video track
Multiple camera views
System Requirements:
Windows 10 (64-bit)
Windows 8.1 (64-bit)
Windows 7 (64-bit)
2.0 GHz Intel Core i3 processor or higher
700 MB available hard disk space for the software
MONITOR Minimum requirement is 1280 x 800
Home Page
-
https://www.toonboom.com/