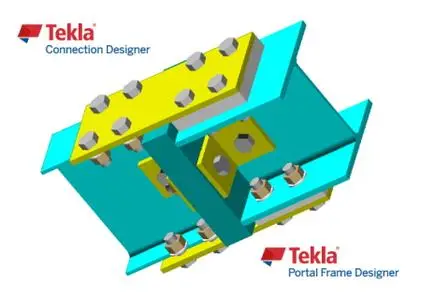 Trimble Tekla Portal Frame & Connection Designer (Fastrak) 2021 SP1 | 508.4 mb
Trimble launched Tekla Portal Frame & Connection Designer (Fastrak) 2021 SP1 (version 21.1.0.0). This release includes a number of enhancements and issue resolutions.
Tekla Portal Frame Designer & Connection Designer 21 Service Pack 1 Release notes Fixes & Enhancements
A number of minor updates and enhancements have been included in this release, including:
[TSD-4665] - When adding wind loading for portal frames to BS 6399, editing values in the dialog such as qs would trigger recalculation of Cpe. However, reduction factors applicable to multi-span portal frames were not being applied correctly. This is corrected in this release.
[TSD-9256] - In Portal Frame Designer, when a combination had Strength load factors for loadcases set to zero, this could cause a crash in the portal frame analysis. With this fix, Strength load factors of zero in any ULS or SLS combinations are no longer allowed.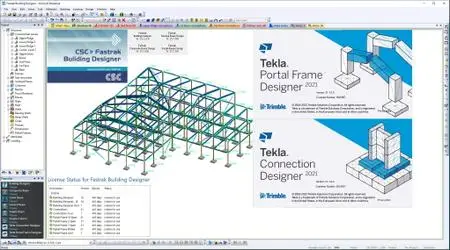 The automated design of steel portal frames and steel connections
just got a whole lot easier as Tekla Portal Frame Designer and Tekla Connection Designer now integrate with Tekla Structural Designer. Packed with really clever features and functions to make your life easier these specialist tools will help you increase efficiency and design with confidence.
Tekla Portal Frame Designer
is now an integrated part of the Tekla software family. Integrating seamlessly with Tekla Structural Designer or acting as a stand alone application, Tekla Portal Designer is packed full of features and functionality that enable efficient and rigorous design to create cost effective design solutions for steel portal frame buildings.
Automated checks for sway, member stability and snap through are included along with automated loading for wind, snow, cranes, ties and parapets. Final designs can be communicated through clear and concise documentation that includes drawing and calculations.
Tekla Connection Designer
is the new name for Fastrak Connections. Using the stand alone product you can design moment or simple connections, column base and hollow section connections. If you are using Tekla Structural Designer or Tekla Portal Frame Designer moment and base plate connections integrate seamlessly improving design efficiency.
Tekla software solutions for advanced BIM,
structural engineering and steel fabrication management are produced by Trimble. Tekla software is at the heart of the design and construction workflow, building on the free flow of information, constructible models and collaboration.
Product:
Trimble Tekla Portal Frame & Connection Designer (Fastrak)
Version:
2021 SP1 (version 21.1.0.0)
Supported Architectures:
x64
Website Home Page :
https://tekla.com/
Language:
english
System Requirements:
PC *
Size:
508.4 mb
Tekla Portal Frame Designer 19 & Tekla Connection Designer 19 system requirements

System requirements for effective operation

CPU: Multi core Intel i3 Series or above, Xeon or AMD equivalent
Highest affordable performance recommended.
Memory: 8GB (16GB or more recommended)
Memory requirements are highly dependant on model content.
OS: Microsoft Windows 7 SP1 / 8.1 / 10 (64-bit recommended)
Operating systems must be running the latest service packs / updates.
Graphics: 1280 x 1024 resolution (1920 x 1080 or higher recommended)
512MB or higher of dedicated RAM.
Disk space: 1GB or more of free space for installation
Operational disk space requirements are highly dependant on model content.
Please visit my blog
Added by 3% of the overall size of the archive of information for the restoration

No mirrors please