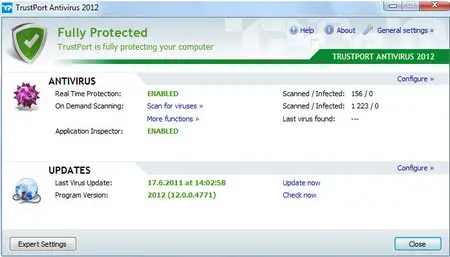 TrustPort Antivirus 2012 12.0.0.4798 Multilanguage | 230 MB
The ideal basic protection from all types of spyware and viruses for your personal computer. The antivirus is regularly automatically updated and so is always prepared to stop the latest viruses, worms, trojans and malware in general. Heuristic analysis even allows the detection of those viruses which haven't been fully defined yet. The antivirus uses powerful technology with two scanning engines.
First-class antivirus and antispyware
- Permanent protection of your data
- Preventive computer scanning
- Automaticed removable media monitoring
- Detection of the latest threats
- Resistance to attacks
- Simple operation
On-access protection
Every program started and every file opened undergoes an antivirus check. The resident protection reliably blocks attempts to run malware. Depending on the repair settings the defective file is renamed, moved to quarantine or permanently deleted.
On-demand protection
It is possible to carry out regular or one-time scans of the entire disk, selected folders or files.
Scanning can be planned on regular weekly, daily or hourly cycles but of course it can also be carried out manually according to current needs.
High level of virus and spyware detection
Thanks to the use of two top-of-the-range scanning engines, the antivirus is able to achieve one of the highest detection rates in the world. It is able to detect and stop practically all existing viruses, worms and trojans.
Automated updates and upgrades
The antivirus is regularly automatically updated. Depending on the settings, virus signatures are downloaded at regular intervals, also new versions of the software are offered for downloading and installation. In this way, the computer is always totally protected.
Resistance against attacks
The system files of the antivirus are themselves protected against any attempts to change them by unauthorized applications. In this way, the malware has no chance of putting the antivirus out of action and of evading detection.
Application inspector - NEW!
This protection layer runs continuously in the background, and checks all suspicious activities within the file system and system registry. Anytime an application tries to access an unusual location, like a system file or a critical registry item, the antivirus will ask the user to allow or block the action.
Home Page
-
http://www.trustport.com/en/products/trustport-antivirus