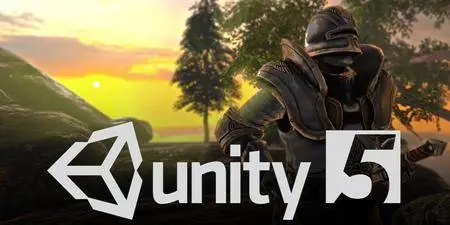 Unity Pro 5.3.5f1 | MacOSX | 4.3 GB
Unity is a game development ecosystem: a powerful rendering engine fully integrated with a complete set of intuitive tools and rapid workflows to create interactive 3D and 2D content; easy multiplatform publishing; thousands of quality, ready-made assets in the Asset Store and a knowledge-sharing community.
For independent developers and studios, Unity's democratizing ecosystem smashes the time and cost barriers to creating uniquely beautiful games. They are using Unity to build a livelihood doing what they love: creating games that hook and delight players on any platform.
Workflow
Rapidly assemble your scenes in an intuitive, extensible Editor workspace. Play, test and edit for fast iteration towards your finished game.
Quality
Create a game with AAA visual fidelity, audio and full-throttle action that performs smooth and clean on any screen.
2D & 3D
Get dedicated tools for both 2D and 3D content creation with efficient workflows that utilize shared conventions.
Mecanim
Unity's uniquely powerful and flexible animation system brings any character or object to life with incredibly natural and fluid movement.
Performance
Reliable performance, smooth framerate, and superb game play experiences across target platforms.
Multiplatform
No other game engine gives you the choice of so many publishing platforms with near-effortless deployment.
Collaboration
Full version control for all game assets; instantly grab changes from other team members, and extend Unity for generic VCS support.
UNITY 5.3.5 Release Notes
Improvements
- Android: IL2CPP - Stripping of symbols and debug info is now enabled by default. Development builds still have symbols which makes for a slightly larger binary.
- Asset Bundles: Added offset argument to AssetBundle.CreateFromFile and AssetBundle.LoadFromFile methods.
- Asset Bundles: Output the CRC value for the manifest asset bundle.
- Asset Management: Introduced AssetDatabase.GetAssetDependencyHash method which returns the hash of all the dependencies of an asset.
- Cluster Rendering: Improved cluster networking layer and reduced instability while using cluster input.
- Graphics: Dynamic batching was reintroduced for particles, lines and trails. (766802)
- IL2CPP: Reduce the binary size and build time for projects which make use of many C# attributes.
- iOS: Added a compile flag in the trampoline code in order to allow disable the filtering of emoji characters.
- iOS: Added device support for iPhone SE and iPad Pro 9.7".
- OpenGL: ComputeBuffer now uses the same data layout as Direct3D whenever automatically translated shaders are used. Therefore no more special layout handling for ComputeBuffer.SetData/GetData is needed based on the graphics API and any such user code should be removed. The only exception is with manually written GLSL shaders. In that case the OpenGL data layout rules must be taken into account.
- Networking: Added support for IPv6 networks in UdpClient. (767741)
- VR: Updated Oculus API and plugin to version 1.3.2. Downloading 1.3.2 OVRPlugin from Oculus is no longer necessary.
- Windows Store: On IL2CPP scripting backend, Unity players are now shipped as DLLs rather than static libraries. This significantly reduces platform support module installation size as well as decreases generated C++ code linking time.
Changes
- Android: IL2CPP - Full debug version of IL2CPP libraries are stored in Temp/StagingArea/Il2Cpp/Native.
- OpenGL: ComputeBuffer data layout changes to match Direct3D; see Improvements section for details.
- Installer: Updated EULA.
and many Fixes…
Requirements:
OS X 10.8+
Home Page
-
http://unity3d.com/
No mirrors please