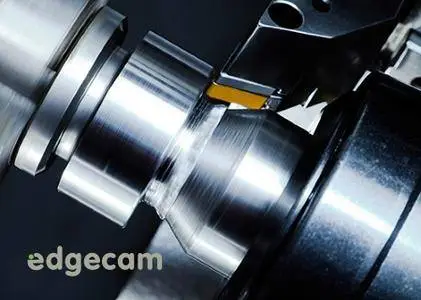 Vero Edgecam 2017 R1 SU4 | 4.6 Gb
Vero announces the release of the fourth update of Edgecam 2017 R1. This release offers nearly fifty items of new and enhanced functionality covering turning, milling, wire EDM, machine configurations, and user experience.
Individually these items each produce time savings, improved performance or enhance the ease of use. Taken together they represent a significant improvement in the overall user experience for our customers.
Tombstone Module
The new 2017 release of Edgecam introduces a Tombstone module for assembling pre-existing parts on a defined mounting device such as a Tombstone or dowel plate. A simple dialog window enables users to add pre-machined part files, specifying the positions they are to be mounted on the multi-component work-holding device. Once they are assembled, Edgecam automatically merges and rationalizes all machining sequences by tool or index position and optimizing the NC output into sub-routines.
This new feature offers huge time savings, as users no longer need to manually carry out the load, insert, merge and rationalize commands.
More info:
HERE
Maintenance List for Edgecam 2017 R1 SU4 (Build 12425):
ECAM-10438 Wireframe entities - lines - are misplaced to different CPL after re-opening file
ECAM-16386 File Save - Edgecam crashes when certain solids are present
ECAM-19725 Profiling - Swaps side on regeneration Fixed
ECAM-20678 Feature Finder - 2D Pocket found with no slot properties (tolerance related)
ECAM-21264 Surface Boundaries (2D Entities) resets CPL level to -0.00
ECAM-22507 Index Collision checking - caching problems
ECAM-22539 Machine Parameters - Editing the Sequence data does not store values first time
ECAM-22572 Save / Open - Causing file to lose solid model and then corrupts the file and crash
ECAM-22609 Intellisnap - Does not pick solid or edges through features
ECAM-23752 Simulator - Fatal Error when Stock Layer is switched off
ECAM-24314 Hole Operation - Safe Peck Distance value not saved (Chipbreak)
ECAM-24319 Patch Update to install and register Solidworks 2017 DLL files
ECAM-9394 Profiling - Helical toolpath starts at depth (Pick Solid Feature) rather than level (Feature)
Vero Edgecam 2017 R1(Base) with Update 4 (SU4)
Vero Edgecam 2017 R1 SU4 Update Only
About Vero Software
Vero Software is a world leader in CAD CAM software with a proven track record of reliable product delivery. Vero develops and distributes software for aiding the design and manufacturing processes, providing solutions for the tooling, production engineering, sheet metal, metal fabrication, stone and woodworking industries. The company's world-renowned brands include Alphacam, Cabinet Vision, Edgecam, Machining STRATEGIST, PEPS, Radan, SMIRT, SURFCAM, VISI, and WorkNC, along with the production control MRP system Javelin. Despite the diversity of application, these solutions have one thing in common: they all address the rising challenges of achieving manufacturing efficiencies and bring huge value to the operations where they are deployed.
Product:
Vero Edgecam
Version:
2017 R1 SU4 (build 12425)
Supported Architectures:
x64
Website Home Page :
www.edgecam.nl
Language:
english
System Requirements:
PC
Supported Operating Systems:
Windows 7even / 8.x / 10
Size:
4.6 Gb
Please visit my blog
Added by 3% of the overall size of the archive of information for the restoration and the volume for the restoration

No mirrors please