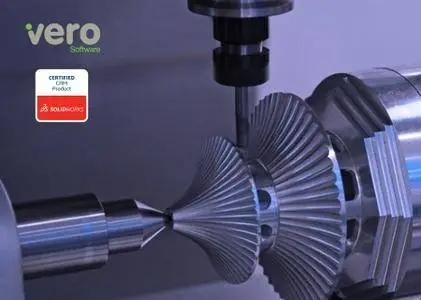 Vero Surfcam 2018 R1 | 3.4 Gb
Vero Software, the world's largest and number one CAM specialist, announced the release of Surfcam 2018 R1, is a computer aided manufacturing (CAM) system that allows you to generate machining strategies and CNC code from CAD models.
Manufacture Enhancements
- ROUGHING CYCLE - DETECT UNDERCUT STOCK ADDED TO GENERAL TAB
- ROUGHING CYCLE - WAVEFORM - ABILITY TO SET HELIX DIAMETER ON APPROACH
- PASS FEATURE BOUNDARY TO CYCLES
- B AXIS CONTOURING CYCLE - MAXIMUM ANGULAR INCREMENT
- ROUGH TURN - COLLISION CHECK CHUCKS
- ROUGH TURN - EXTEND PAST STOCK EDGE
- PROFILING - SPRING CUTS ADDED TO GENERAL TAB
- PROFILING - ADJUST FEEDRATE ON ARCS ADDED TO GENERAL TAB
- PROFILING - UNDERCUT PROFILING WITH PROTECT SOLID IS NOT PERMITTED
- PRESERVING FEATURES THAT WERE FOUND ON A STOCK SOLID
- SPEED AND FEED MODIFIERS ARE NOW LOCKED WHEN USING TECHNOLOGY VALUES FROM THE TOOLSTORE
- DEEP HOLE DRILLING
- SPINDLE CONTROL COMMAND NOW CONTROLS THROUGH TOOL COOLANT
- MOVE TO TOOLCHANGE / HOME ON MACHINES WITH ROTARY HEADS
- SUPPORT FOR JTOPEN FILE FORMAT
- HANDLING OF NESTED FEATURES FOR IMPROVED STRATEGY USE
Interface Enhancements
- SCREEN CAPTURE
- IMAGES ON DIALOGS
- NEW OPENGL DATUM
- PDI API ENHANCEMENTS
- FORMULAS IN DIALOGS
Simulator Enhancements
- SPINNING EFFECT ON HOLDERS DURING SIMULATION
Code Wizard Enhancements
- EULER ANGLES FOR MULTI-PLANE MACHINING
Code Generator Enhancements
- SYSTEM VARIABLE FOR EULER ANGLES
Strategy Manager Enhancements
- STRATEGY MANAGER - ISFEATUREFINISHED FUNCTION FOR HOLES
This
document
highlights new product features and enhancements in Surfcam 2018 R1
About Vero Surfcam.
SURFCAM is a CAM solution that achieves the perfect balance between feature sets and ease of use. With an unrivalled out of the box experience, SURFCAM provides a great entry-level CAM platform, full of functionality and one to help your business become even more productive and profitable.
SURFCAM customers also have the added benefit of maintaining associativity between their SURFCAM toolpaths and SOLIDWORKS parts and assemblies in their CAD/CAM, design thru manufacturing environment. SURFCAM's powerful associativity enables NC programmers to open native SOLIDWORKS files directly into SURFCAM, completely eliminating the translation process. When changes are made to the SOLIDWORKS design models, SURFCAM automatically recognizes the design revisions and offers to regenerate the affected toolpaths within SURFCAM's Operations Manager. With this simple and seamless interoperability between these two systems, SURFCAM users can quickly adapt to SOLIDWORKS design changes and efficiently update their programming environment.
The partnership of SURFCAM and SOLIDWORKS provides a smart, simple and efficient solution for NC programmers who required ease-of-use and world class precision and control over their NC programming environment.
About Vero Software.
Vero Software is a world leader in CAD CAM software with a proven track record of reliable product delivery. Vero develops and distributes software for aiding the design and manufacturing processes, providing solutions for the tooling, production engineering, sheet metal, metal fabrication, stone and woodworking industries. The company's world-renowned brands include Alphacam, Cabinet Vision, Edgecam, Machining STRATEGIST, PEPS, Radan, SMIRT, SURFCAM, VISI, and WorkNC, along with the production control MRP system Javelin. Despite the diversity of application, these solutions have one thing in common: they all address the rising challenges of achieving manufacturing efficiencies and bring huge value to the operations where they are deployed.
Product:
Vero Surfcam
Version:
2018 R1
Supported Architectures:
x64
Website Home Page :
http://traditional.surfcam.com/
Language:
english
System Requirements:
PC
Supported Operating Systems:
Windows 7even or newer
Size:
3.4 Gb
Please visit my blog
Added by 3% of the overall size of the archive of information for the restoration

No mirrors please