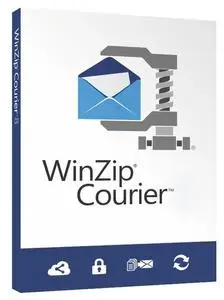 WinZip Courier 11.0 | 80.7 Mb
The leading email solution for sending large files with simple zipping and unzipping technology.
Break through email size limits
Easily zip and encrypt attachments for safe delivery
Share seamlessly from your email using leading cloud services
Convert to PDF, add watermarks and resize images
Share large files
Email large files with confidence. Courier integrates with your email, including Microsoft Outlook, Yahoo! Mail, Gmail, Outlook.com, Office 365 and Zoho, to automatically zip large attachments so you can stop worrying about email size limits, delivery failure and bounce backs.
Protect your privacy
Secure confidential attachments with passwords and powerful AES encryption. Courier also provides FIPS 140 support when used with WinZip Enterprise. Temp file wiping/shredding ensures the security of attachments shared over email.
Convert and share
Easily convert Microsoft Office files to PDF. Add watermarks to images, and resize images for easy and secure sharing. Convert as your attachments are zipped, or apply to a single unzipped attachment for instant sharing.
Share via cloud services
For files that are still too large to email after they have been zipped, Courier automatically uploads the Zip file to ZipShare or any of your connected cloud services and adds a link to the file into your email. Recipients simply click on the link to retrieve the file.
Courier integrates seamlessly with any of the following email and web mail applications:
Microsoft Outlook 2010, 2013, 2016, 2019 (32-bit or 64-bit versions)
Yahoo! Mail
Outlook.com
Gmail
Zoho
Office 365
Courier works with the webmail listed above when used with the following browsers:
Microsoft Internet Explorer 11
Google Chrome v60 or later
Mozilla Firefox v57 or later
Microsoft Edge v80 or later
Cloud Services require Internet Access
ZipShare
Box
CloudMe
Dropbox
Google Drive
MediaFire
OneDrive
SugarSync
Operating System:
Windows 7, Windows 8, and Windows 10
Home Page
-
https://www.winzip.com/