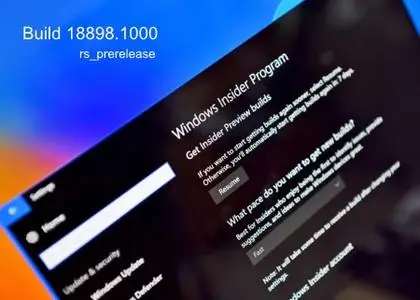 Windows 10 Insider Preview (20H1) Build 18898.1000 with Development Tools | 14.5 Gb
Microsoft has made the Windows 10 Insider Preview Build 18898 (20H1) with Development Tools to Insiders in the Fast ring. The new Build 18898 brings various bug fixes and performance improvements.
What's new in Build 18898
- Disk type now visible in Task Manager Performance tab
A small, but perhaps convenient change — you'll now be able to see the disk type (e.g. SSD) for each disk listed in Task Manager's performance tab. This is particularly helpful in cases where you have multiple disks listed, so you can differentiate between them.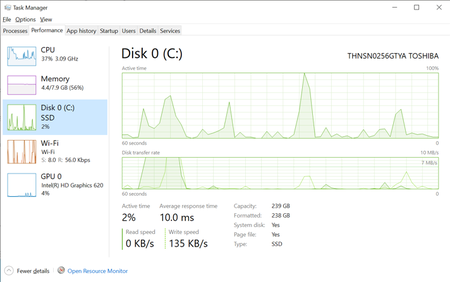 General changes, improvements, and fixes for PC
- We fixed an issue resulting in a high hitting DWM crash in recent builds.
- We fixed a pcshell.dll issue in recent builds resulting in a high hitting explorer.exe crash.
- We fixed an issue where updated Japanese IME settings would be never applied in certain desktop bridge apps, which could result in prediction candidates being shown even after they'd been disabled in the IME settings. For those who've already been impacted by this, you'll need to reset the app Settings > Apps > <select the app> > Advanced Options > Reset before you see the results of this fix.
Known Issues
- There has been an issue with older versions of anti-cheat software used with games where after updating to the latest 19H1 Insider Preview builds may cause PCs to experience crashes. We are working with partners on getting their software updated with a fix, and most games have released patches to prevent PCs from experiencing this issue. To minimize the chance of running into this issue, please make sure you are running the latest version of your games before attempting to update the operating system. We are also working with anti-cheat and game developers to resolve similar issues that may arise with the 20H1 Insider Preview builds and will work to minimize the likelihood of these issues in the future.
- Some Realtek SD card readers are not functioning properly. We are investigating the issue.
- If you use remote desktop to connect to an enhanced session VM, taskbar search results will not be visible (just a dark area) until you restart searchui.exe.
- We're investigating reports that on certain devices, if fast startup is enabled, night light doesn't turn on until after a restart. (Note: The problem will occur on a "cold" reboot or power off / power on. To work around if night light doesn't turn on, use Start > Power > Restart.)
- There's a noticeable lag when dragging the emoji and dictation panels.
- Tamper Protection may be turned off in Windows Security after updating to this build. You can turn it back on.
- Some features on Start Menu and in All apps are not localized in languages such as FR-FR, RU-RU, and ZH-CN.
- In the Ease of Access settings, selecting a color filter may not take effect right away unless color filters option is turned off and back on again.
- The IME candidate window for East Asian IMEs (Simplified Chinese, Traditional Chinese, and the Japanese IME) may not open sometimes. We are investigating the issue. In the meantime, going to Task Manager and ending the "WindowsInternal.ComposableShell.Experiences.TextInput.InputApp.exe" task from the from the Details tab should unblock you if you experience this issue.
- We are aware of an issue with the Bopomofo IME where the character width is suddenly changed to Full width from Half width and are investigating.
Known issues for Developers
- If you install builds from the Fast ring and switch to either the Slow ring or the Release Preview ring, optional content such as enabling developer mode will fail. You will have to remain in the Fast ring to add/install/enable optional content. This is because optional content will only install on builds approved for specific rings.
DirectX 12 boosts performance of HITMAN 2
- Windows 10 continues to power the world's best PC gaming experiences, and we are continuously in awe of how our game development partners creatively use our technology to deliver vibrant and immersive worlds. Recently, our partners at IO Interactive, the developers of the award-winning HITMAN franchise, added DirectX 12 support to HITMAN 2, with impressive results. IO Interactive was so excited that they wanted to share a bit about how their innovative use of DirectX 12 benefits HITMAN gamers everywhere. Head over to the DirectX 12 blog to learn how DirectX 12 is, in the words of HITMAN gamers, "an absolute game changer."
IMPORTANT:
As is normal with builds early in the development cycle, these builds may contain bugs that might be painful for some. If you take this flight, you won't be able to switch Slow or Release Preview rings without doing a clean-install on your PC. If you wish to remain on 19H1, please change your ring settings via Settings > Update & Security > Windows Insider Program *before* taking this flight.
About Bing Insider
The Bing Insider program was created for users who want an exclusive connection to the latest Bing news and features. You're some of our biggest fans—and the feeling is mutual.
As a member, you'll get an early look at new Bing features, access to staff, and invitations to special fan events. All we ask for in return is your feedback. You are a critical part of the Bing experience, and we welcome your input.
About Windows 10 20H1 Software Development kits (SDK).
Microsoft working on feature update for Windows 10, code named 20H1, which is expected to be released in the March/April 2020 time frame. Alongside that process, they also have begun work on the next SDK that will give developers early access to the new tools and capabilities in this upcoming feature update.
For developers, a feature update to Windows 10 means new capabilities and features that can be accessed through system APIs in the updated operating system. That means time needs to be spent updating the underlying code of current enterprise, business, and consumer apps so they are ready when that next feature update is released. That is where software development kits (SDK) play a critical role as those new updates are being developed.
Microsoft knows this and alongside the Windows 10 20H1 client testing builds they release to members of the Windows Insider Program, they also make available an updated Windows 10 20H1 Software Development Kit (SDK) release. This SDK contains the new APIs for updated features and capabilities that the developer can access and put to use in their own apps as the operating system is being updated. That means once the new feature update for Windows 10 is ready, these developers can also release updated apps immediately that are ready to take advantage of those new features.
Although there is no set schedule, Microsoft usually releases new software development kits for Windows 10 20H1 following the availability of a Windows Insider Program fast ring build in the 20H1 branch. That means there is usually a one week period of time between the release of a fast ring build to testers and the availability of the new SDK release for that build.
About Microsoft.
Microsoft Corporation, leading developer of personal-computer software systems and applications. The company also publishes books and multimedia titles, offers e-mail services, and sells electronic game systems, computer peripherals (input/output devices), and portable media players. It has sales offices throughout the world.
Product:
Microsoft Windows 10
Version:
Insider Preview (20H1) Build 18898.1000.rs_prerelease 190510-1634 with Development Tools*
Supported Architectures:
32bit / 64bit
Website Home Page :
www.microsoft.com
Language:
english, русский
System Requirements:
PC **
Size:
14.5 Gb
18898.1000.190510-1634.RS_PRERELEASE_CLIENTCOMBINED_UUP_A64FRE_EN-US.ISO
18898.1000.190510-1634.RS_PRERELEASE_CLIENTCOMBINED_UUP_A64FRE_RU-RU.ISO
18898.1000.190510-1634.RS_PRERELEASE_CLIENTCOMBINED_UUP_X64FRE_EN-US.ISO
18898.1000.190510-1634.RS_PRERELEASE_CLIENTCOMBINED_UUP_X64FRE_RU-RU.ISO
18898.1000.190510-1634.RS_PRERELEASE_CLIENTCOMBINED_UUP_X86FRE_EN-US.ISO
18898.1000.190510-1634.RS_PRERELEASE_CLIENTCOMBINED_UUP_X86FRE_RU-RU.ISO

Windows_InsiderPreview_ADK_en-us_18898.iso
Windows_InsiderPreview_HLK_en-us_18898.iso
Windows_InsiderPreview_SDK_en-us_18898.iso
Windows_InsiderPreview_DAC_18898.wim
Processor: 1 gigahertz (GHz) or faster.
RAM: 1 gigabyte (GB).
Free space on hard disk: 16 gigabytes (GB).
Graphics card: DirectX 9 graphics device or a newer version.
Additional requirements to use certain features.
To use touch you need a tablet or monitor that supports multitouch.
To access the Windows store to download and run apps, you need an active Internet connection and a screen resolution of at least 1024 x 768 pixels.
Please visit my blog
Added by 3% of the overall size of the archive of information for the restoration

No mirrors please