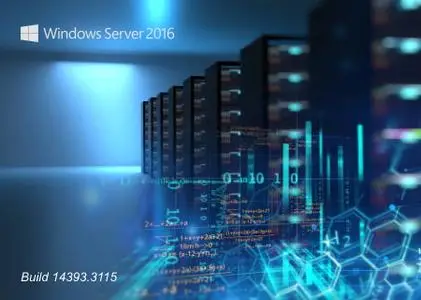 Windows Server 2016 Build 14393.3115 | 10.4 Gb
The Microsoft product team is pleased to announce the availability of Windows Server 2016 (build 14393.3115). This release includes fixes to various user-reported issues from the previous release and quality improvements, providing an overall more stable experience.
July 16, 2019 — KB4507459 (OS Build 14393.3115)Highlights
- Updates an issue that affects applications that manage files, folders, and device settings.
- Improves compatibility with the Window-Eyes screen reader application.
Improvements and fixes
This update includes quality improvements. Key changes include:
- Addresses an issue that may prevent the personal identification number (PIN) prompt from appearing when authenticating in Internet Explorer.
- Addresses an issue with leaking Windows notification sockets that causes Windows to run out of ports.
- Updates time zone information for Brazil.
- Addresses an issue that displays the Power button on the Ctrl+Alt+Del screen when the "User Configuration\Administrative Templates\Start Menu and Taskbar\Remove and prevent access to the Shut Down, Restart, Sleep, and Hibernate commands" policy is enabled.
- Addresses an issue that fails to bypass automatic sign in (Autologon) when you press and hold the Shift key during startup.
- Addresses an issue that may prevent the Netlogon service from establishing a secure channel and reports the error, "0xC000007A – ERROR_PROC_NOT_FOUND."
- Addresses an issue that causes Windows Defender Application Control to generate too many events related to dynamic code generation.
- Addresses an issue that causes applications that use windows.storage.dll to stop working and displays ExceptionCode c0000005 (Access violation) when the process closes.
- Addresses an issue that causes the Storage Spaces Direct (S2D) pool to lose Pool Quorum and prevents access to the S2D volumes if you restart one of the S2D cluster nodes.
- Addresses an issue in Microsoft Remote Desktop Web Access (RDWeb) that allows user passwords to be updated even if there is a "Confirm New Password" field error.
- Addresses an issue that may cause a Remote Desktop Server to stop responding when someone who is using drive redirection disconnects.
- Addresses an issue that may prevent some applications from running as expected on clients of Active Directory Federation Services 2016 (AD FS 2016) after installing KB4493473 on the server. Applications that may exhibit this behavior use an IFRAME during non-interactive authentication requests and receive X-Frame Options set to DENY.
- Addresses an issue that prevents Microsoft Application Virtualization (App-V) scripting from working if you run it when you're not connected to a domain controller (DC). App-V scripting also fails when you run it in an environment that only contains Microsoft Azure Active Directory.
- Addresses an issue with opening or using the Window-Eyes screen reader application that may result in an error and prevent some features from functioning as expected.
- Addresses an issue that may cause a cluster node to lose membership in a cluster and cause all its workloads to fail over. This issue may occur when a cluster node creates a Live Dump.
- Addresses an issue that prevents hosts that are managed by System Center Virtual Machine Manager (SCVMM) from enumerating and managing the logical switches deployed on the hosts. Additionally, if you do not follow the best practices, a stop error may occur in vfpext.sys on the hosts.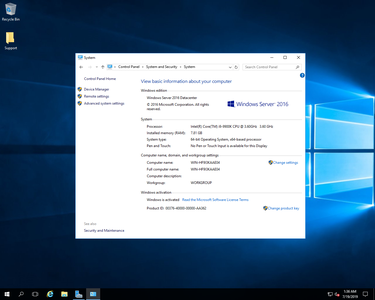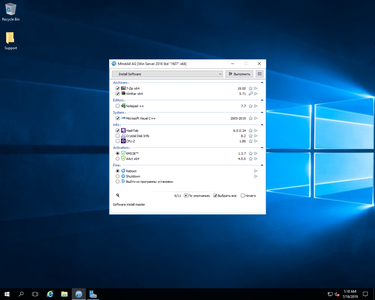 Windows Server 2016
is the cloud-ready operating system that delivers new layers of security and Azure-inspired innovation for the applications and infrastructure that power your business.
Ways to try Windows Server 2016:
- TechNet Virtual Labs: Skip the setup work and log into our free TechNet Virtual Labs for a real-world environment along with step-by-step guidance to help you try the new features.
- Run it in Azure: Azure provides a great way to test Windows Server 2016 with pre-built images.
Choose an edition and an installation option:
Customers who download the full ISO will need to choose an edition and an installation option. This ISO evaluation is for the Datacenter and Standard editions. The Datacenter edition is the most complete edition and includes the new Datacenter-specific features (Shielded Virtual Machines, Storage Spaces Direct, Storage Replica, and Software-Defined Networking) in addition to unlimited server virtualization.
Installation options:
- Server Core: This is the recommended installation option. It's a smaller installation that includes the core components of Windows Server and supports all server roles but does not include a local GUI. It is used for "headless" deployments which are managed remotely via PowerShell or other server management tools.
- Server with Desktop Experience: This is the complete installation and includes a full graphical user interface (GUI) for customers who prefer this option.
Microsoft Corporation,
leading developer of personal-computer software systems and applications. The company also publishes books and multimedia titles, offers e-mail services, and sells electronic game systems, computer peripherals (input/output devices), and portable media players. It has sales offices throughout the world.
Product:
Windows Server
Version:
2016 Build 14393.3115 *
Supported Architectures:
x64
Website Home Page :
www.microsoft.com
Language:
english, русский
System Requirements:
**
Size:
10.4 Gb
SW_DVD9_Win_Svr_STD_Core_and_DataCtr_Core_2016_64Bit_English_MLF_X21-22843.ISO
SW_DVD9_Win_Svr_STD_Core_and_DataCtr_Core_2016_64Bit_Russian_MLF_X21-22838.ISO

******************************************************************************
ru_windows_server_2016_vl_x64:
Windows Server 2016 Standard Ru with GUI
Windows Server 2016 Datacenter Ru with GUI

en_windows_server_2016_vl_x64:
Windows Server 2016 Standard En with GUI
Windows Server 2016 Datacenter En with GUI

******************************************************************************

Activators: KMS Tools Portable 06.2019, HWID v62.01
Driverpack: SDI R1904 with drivers (updated 06.2019) for LAN/Chipset/MassStorage/USB/

*******************************************************************************

Programs are installed using the MInstall shell after installing the OS. (without timer) There is a possibility of choosing software what needs to be installed and what is not.
Установка программ производится с помощью оболочки MInstall после установки ОС. (без таймера) возможность выбора софта, что нужно ставить а что нет.
WinRAR v5.71, 7-ZIP v19.00
Notepad ++ v7.7
Microsoft Visual C++ (Lib) 2005…2019
HashTab v6.0.0.34, CrystalDiskInfo v8.2, CPU-Z v1.89
KMS38 (to 2038)
AAct v4.0.0

********************************************************************************

A small set of Snappy Driver Installer R1904 with drivers for 06.2019 for LAN/Chipset/MassStorage/USB добавлен в образ -
\sources\$OEM$\$1\Users\Public\Desktop\Soft\Drivers\Driverpack\SDI_1904 ~ 500mb
When starting SDI_x64_R1904.exe, the shell can install the necessary drivers, and with the presence of an Internet, tighten the selected driver packages
or update your selected drivers.

Небольшой комплект Snappy Driver Installer R1904 c драйверами по 06.2019 для LAN/Chipset/MassStorage/USB добавлен в образ -
\sources\$OEM$\$1\Users\Public\Desktop\Soft\Драйвера\Драйверпак\SDI_1904 ~500мб
При запуске SDI_x64_R1904.exe оболочка может установить нужные драйверы, а с наличием инета подтянуть выбранные пакеты драйверов
или обновить выбранные вами драйверы.

**********************************************************************************
Processor
- 1.4 GHz 64-bit processor
- Compatible with x64 instruction set
- Supports NX and DEP
- Supports CMPXCHG16b, LAHF/SAHF, and PrefetchW
- Supports Second Level Address Translation (EPT or NPT)
RAM
- 512 MB (2 GB for Server with Desktop Experience installation option)
- ECC (Error Correcting Code) type or similar technology
Network adapter requirements
- An Ethernet adapter capable of at least gigabit throughput
- Compliant with the PCI Express architecture specification.
- Supports Pre-boot Execution Environment (PXE).
Other requirements
- DVD drive (if you intend to install the operating system from DVD media)
- UEFI 2.3.1c-based system and firmware that supports secure boot
- Trusted Platform Module
- Graphics device and monitor capable of Super VGA (1024 x 768) or higher-resolution
- Keyboard and Microsoft mouse (or other compatible pointing device)
- Internet access (fees may apply)
Please visit my blog
Added by 3% of the overall size of the archive of information for the restoration

No mirrors please