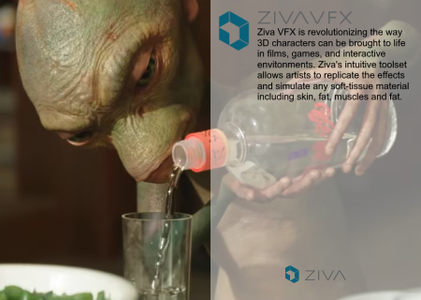 Ziva Dynamics Ziva VFX v2.1 for Autodesk Maya | 2.6 Gb
Ziva Dynamics has released Ziva VFX 2.1, the latest update to its soft tissue simulation plugin for Maya, adding new functionality, and making the plugin compatible with Maya 2023.
Functionality
- All integrator types are now supported by the Iterative Solver.
- Continuous Collision Detection (CCD) method is now applied to the collision detection phase. The simulation quality is improved through the use of CCD (which interpolates the past and current position of vertices to find contact points) instead of Discrete Collision Detection (which just detects vertex penetration and finds contacts through a closest-point projection to the surface). Each simulation timestep is more expensive due to this change, but the simulation quality becomes better. With the improved simulation quality, the number of substeps needed can be drastically reduced while retaining the same visual accuracy. This reduction in the number of substeps can often lead to faster simulation times, and is available to the user to tweak.
- Curvature stiffness attribute is added to zMaterial node.
This attribute makes the tissue more resistant to bending (in overall shape or in surface deformations).
- Attachment Damping (check Damping under Physical Effects) is added, which appears as an adjustable attachment-wise parameter called damping under zAttachment. When attachment damping is enabled, oscillatory/unstable behavior in attachments is reduced.
Note: Attachment damping does not support Maya Cached Playback when resuming simulation from anywhere but the start frame. However, this problem is not present in Ziva Simulation Cache(zCache).
- Maya 2023 is now supported.
- -logFileQuery and -logFile flags are added to the ziva commands.
The former flag returns the current log file path and the latter flag allows user to set a custom log file.
- zBone/zTissue/zCloth enable attribute is now connectable.
Bug Fixes
- VFXACT-745 Changing zTet.maxResolution attribute value causes zSolver report error.
- VFXACT-1322 Clearing cache for 2 zSolvers at once throws error.
- VFXACT-1350 Changing a tissue fiber to sub-tissue does not draw the fiber.
- VFXACT-1445 Info query about an invalid tet mesh crashes Maya.
ziva-vfx-utils (v2.1.0) updates
- The refresh speed of Scene Panel 2 is improved.
- The zBuilder file format size is decreased by compressing the file.
Ziva VFX
is the world's leading character simulation solution. The technology features a robust physics solver that enables artists to replicate the materiality and physics of any soft tissue object, including muscles, fat, and skin. This feature, along with the comprehensive collection of out-of-the-box rigging tools, has powered leading CG creatures in titles such as Captain Marvel, Aqua Man, Hellboy, A Dog's Way Home, Small Foot, and more. Ziva simulation technology, which leverage Intel's Math Kernel Libraries, accurately solves the relationship between organic soft-tissue (i.e., muscles, fat, and skin) and external objects such as fabric, textiles, metals, and foams. With simulated human models and digitally reconstructed retail designs, companies can effectively identify how products interact and influence the human body, reducing the demand for live fit tests and redundant manufacturing cycles.
The
Ziva Face Trainer (ZFT)
is built on a comprehensive library of 4D data and proprietary machine learning algorithms. Within 1 hour, your character mesh is injected with the game industry's best tech.
ZivaRT (Ziva Real Time)
is a machine learning technology that allows a user to produce film-quality shape deformation results in real time. In particular, the software takes in a set of representative high-quality mesh shapes and poses and trains a machine learning model to learn how to deform and skin the mesh. ZivaRT allows for film-quality characters to be deployed in real-time applications.
The
Ziva's VFX Utilities
is set of python utilities that have been designed to help leverage the benefits of the Ziva Character Simulation paradigm.
zBuilder
is a tool for extracting part of a Maya scene into a Python representation that's easy to manipulate, save to disk, and re-apply to a Maya scene. It has lots of support for manipulating Ziva creatures and can be easily extended. It's designed to be used by Technical Directors who are rigging characters with ZivaVFX. It supports use cases such as updating a rig when new geometry is published and transferring a Ziva rig from one character to another.
zUI
is a beta UI to help navigate the Ziva setup in Maya. Among other things, it can help list objects in the simulation, find their attachments, quickly navigate and select Ziva DG nodes, and drop into painting maps.
Ziva VFX for Maya Tutorial | Art Directable Rest Shapes
Hit any custom shape or silhouette in your simulation with Ziva VFX Art Directable Rest Shapes, complete with rich, physics-adhering secondary dynamics. This high-demand feature enables animation and VFX teams to reduce their corrective workflow and push their characters, digidoubles, and facial work beyond any artistic limitation.
Founded in early 2015 by Academy Award-winner James Jacobs and USC Professor/TR35-winner Dr. Jernej Barbic,
Ziva Dynamics
is changing the way virtual characters are brought to life. Ziva character technologies harness the leading methodologies from engineering and computer science to rapidly produce the most accurate and scalable character results. Ziva fundamentally changes the character creation process, while providing greater control, speed, and capabilities to artists of all levels. Emerging artists, award-winning studios, and global brands are all leveraging Ziva's technology to make world-class characters for movies, TV, retail experiences, and interactive environments.
Product:
Ziva Dynamics Ziva VFX
Version:
2.1 with Content *
Supported Architectures:
x64
Website Home Page :
https://zivadynamics.com/
Languages Supported:
english
System Requirements:
Windows or Linux **
Software Prerequisites:
pre-installed Autodesk Maya 2019-2023
Size:
2.6 Gb
ZIVA VFX Installer v2.1 (Windows, All Maya Versions)
ZIVA VFX Installer v2.1 (Linux, All Maya Versions)
ZFT Demo Face (Maya) v1.0 (Windows)
ZFT Demo Face (Maya) v1.0 (Linux)
ZivaRT Unity Player v1.0.0-pre.1 (Windows)
Please visit my blog
Added by 3% of the overall size of the archive of information for the restoration

No mirrors please