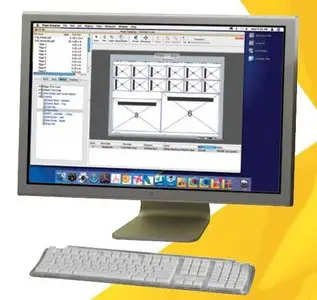 Shipping Contents:
- USB Dongle Type Preps "iKey"
- Creo product password for the dongle with the activation of Preps Plus Standart for Win/Mac Edition from ScenicSoft
- Original CD with Installer of Version 5.0 for Mac and PC
- Download version of the update to version 5.2.3 for Mac OSX 10.5 and PC on CD
- Original box with printed english documentation and release notes
- Documentation in other languages as PDF on the CD
- After the purchase, we take care of a re-licencing, so that you will be the new registered user.
Preps Plus Features:
- Print environment: commercial
- Native PDF imposition
- JDF import
- JDF/PJTF output
- APR, OPI and DCS passthrough
- Adobe PDF and PostScript 3 preview
- Kodak Brisque, ApogeeX, Prinergy and Rampage workflows compatibility
- JDF 1.2 and 1.3; CPI4 LayCrImp ICS certified
- AppleScript Support (Mac OS only)
- SmartMarks, mark groups and press marks
- Native PDF color mapping
- Levels 1 and 2 color separation
- Automatic custom tiling
- Mulitple output files
- Output to multiple devices
Product description
KODAK PREPS Imposition Software is used in popular workflow solutions and in stand-alone POSTSCRIPT and PDF environments worldwide. PREPS Software features are constantly evolving to meet the needs of industry professionals in the most demanding print environments. The series has versions tailored for commercial, on-demand, and large-format, or web-offset printing.
PDF-native workflow
The seamless PDF workflow provides fast and accurate native previewing. It automatically accepts all incoming PDF files without converting them to POSTSCRIPT files, saving time and disk space. PDFs can be archived, sent to an output device, or exported for viewing in ADOBE ACROBAT software.
JDF and CIP3 Support
PREPS Software can now import JDF files from management information systems (MIS). When you import a JDF file, PREPS Software expresses it as a new PREPS Software job and either attempts to match the imposition details specified by the MIS, or dynamically creates a signature on the fly including placement of all marks. PREPS Software can then export a file that includes the original JDF plus the JDF imposition layout and mark flats.
As the first certified producer of JDF layouts of JDF layouts, PREPS Software is ideally positioned within the workflow to created JDF layouts that can be used downstream by prepress workflows and postpress equipment, and upstream by the MIS to update imposition details missing from the original estimate. The JDF can be used downstream by prepress workflows, or upstream by the MIS to update imposition details missing from the original estimate.
Intelligent SMARTMARKS Feature
With the SMARTMARKS Feature, users can define where marks or groups of marks should be placed on a press sheet in relation to the sheet size, gutter, or page, rather than as static marks, and save the marks as templates. When the template is applied to new jobs, these marks will automatically reposition and resize themselves to the new press sheet sizes in a single action, saving valuable job processing time.
Interactive job ganging
For print shops that produce ganged flatwork impositions they know how time consuming stepping up multiple products on a single sheet can be. With PREPS PRO Software, a new is included to efficiently create ganged flatwork impositions. The ganging feature in PREPS Software introduces a new user interface that allows you to build and display the template and content interactively.
With tools like marquee step-and-repeat, multi-dimension editing, auto bleed and trim mark cropping, multiobject snapping, and SMARTMARKS, it's never been faster to build ganged flatwork impositions.