AbiWord 2.4.4 Multilang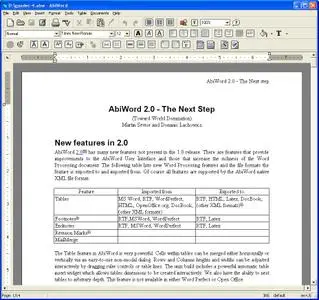 English
AbiWord is rapidly becoming a state of the art Word Processor, with lots of features useful for your daily work, personal needs, or for just some good old typing fun. This tour gives you a quick look into some of AbiWord's highlights.

Enjoy your favorite Word Processor on the operating system you like to use - be it Windows, Linux, QNX, FreeBSD or Solaris.

AbiWord has been designed to integrate perfectly with the operating system it runs on. It will take advantage of the functionality provided by the system, such as image loading or printing capabilities.
French
AbiWord est un logiciel de traitement de texte multi-plateformes. AbiWord comporte le formatage de base des caractères (gras, souligné, italique, etc.), l'alignement des paragraphes, un vérificateur d'orthographe, un nombre illimité d'annuler-rétablir, un contrôle multi-colonnes (deux et trois), une fonction de recherche. Vous pouvez également importer des textes au format RTF et les documents Microsoft Word aussi bien que des images au format PNG. En outre, vous pouvez changer le type de police, la couleur, et la taille, la numérotation de page, etc.
http://www.abisource.com/downloads/abiword/2.4.4/Windows/abiword-setup-2.4.4.exe
http://rapidshare.de/files/19060983/abiword-setup-2.4.4.By_BestOfTe_m.rar