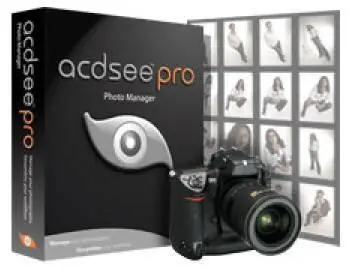 ACDSee Pro Photo Manager ver.9.0.55 | 22.8 Mb | Windows OS
ACDSee - the worlds #1 digital imaging software. ACDSee is a comprehensive application ideal for acquiring, organizing, viewing, enhancing and sharing your images. With the image browser, you can find, organize, and preview images and media files on your computer, and you can efficiently acquire images from digital cameras, scanners, and other devices. A full-featured image viewer and media player quickly generates high-quality displays of your images and media files. You can run slide shows, play embedded audio, and display multiple page images. ACDSee supports over 50 image and multimedia file formats. Also, ACDSee includes a wide variety of image editing tools you can use to create, edit and touch-up your digital images. Use tools such as red-eye reduction, crop, sharpen, blur, and embos to enhance or correct your images. Image management tools, such as exposure adjustment, convert, resize, rename, and rotate, can be performed on multiple files at the same time. The new user interface is completely customizable, and provides quick access to tools and features. You can customize the screen layout, the order of images, toolbar display, and many other options to suit your preferences. ACDSee 8.0 is a fast, powerful, and easy-to-use image management system that everyone from novices to professionals can use and enjoy.
Features :
- Lightning-fast RAW image previews.
- Powerful RAW processing that gives you full control over your images with precision tools for adjusting white balance, exposure, sharpness, and noise.
- Extensive support for RAW formats from Nikon, Canon, Konica-Minolta, Olympus, Fuji, and Pentax cameras.
- Full color management support for ICC and ICM color profiles.
- Visual tagging feature allows you to quickly sort and select preferred photographs.
- Integrated support for the DNG (Digital Negative Specification) RAW format.
- Batch editing of thousands of photographs at once using multiple functions.
- Fully integrated IPTC support for interoperability with PhotoShop Captions.
- Watermark your photographs with graphics or text to reflect copyright and ownership laws, or to overlay business-related information on specific photographs.