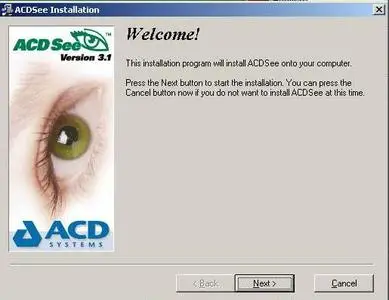 ACDSee 3.1 | RS | 5,3Mb
ACDSee is several tools in one. A full-featured image Viewer quickly generates a high quality display of your image. The image Browser lets you efficiently find and organize your images. ACDSee also provides several image manipulation functions, including a convenient Photo Enhancer.
Image Viewing Features
Image Browsing Features
Image Manipulation Features
Photo Enhancement Features
User Interface Features
www.acdsystems.com
.
Minimum system requirements:
· Microsoft Windows 95 / 98 / NT 4.0 / 2000 / XP
· Intel 486DX with 32 MB RAM
· 10 MB free disk space
Enjoy the Old Ones…..