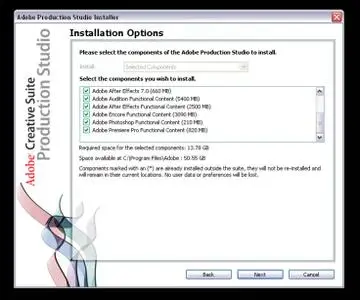 Adobe Creative Suite CS 2 + bonus | 3,8GbAll in 6 parts! each part ~700mb
The complete post-production solution Bring new power and efficiency to your film, video, DVD, and web workflows
with Adobe&Production Studio Premium software. Part of the Adobe Creative
Suite family, this complete audio and video post-production solution combines
Adobe After Effects 7.0 Professional,
Adobe Premiere Pro 2.0,
Adobe Photoshop CS2,
Adobe Audition 2.0,
Adobe Encore DVD 2.0,
Adobe Illustrator CS2
Software with the timesaving workflow features Adobe Dynamic Link and Adobe Bridge.
Deliver your best work with Adobe Production Studio Premium software,part of the Adobe Creative Suite family.
A complete, fully integrated post-production environment, Adobe Production Studio Premium
combines Adobe world-class video and graphics software with the ground-breaking efficiency
of Adobe Dynamic Link for unmatched integration and a highly efficient workflow.
Like Adobe Creative Suite, Adobe Production Studio provides deep integration and a powerful,
unified design environment. With the unique power of Adobe Dynamic Link, you can view and work
with motion graphics, title sequences, and visual effects in both Adobe After Effects for editing
and in your Adobe Premiere Pro timeline, with no need to render and import new video every
time you edit. Similarly, you can work with motion menus in both After Effects and
Adobe Encore DVD with no intermediate rendering steps. This direct link means you spend more
time perfecting your productions and less time rendering them, thus eliminating a frustrating
and time-consuming production bottleneck. Working with Adobe Production Studio means you have
access to a full range of superior and tightly integrated tools that bring the power and efficiency
you demand to your post-production work.
Production Studio 1 DVD.
Download from Oxyshare, All in 6 parts! every part ~700mb:
http://www.oxyshare.com/get/17...dobe_creative_Suite_1.rar.html
http://www.oxyshare.com/get/18...dobe_Creative_Suite_2.rar.html
http://www.oxyshare.com/get/20...dobe_Creative_Suite_3.rar.html
http://www.oxyshare.com/get/97...dobe_Creative_Suite_4.rar.html
http://www.oxyshare.com/get/11...dobe_Creative_Suite_5.rar.html
http://www.oxyshare.com/get/20...dobe_Creative_Suite_6.rar.html