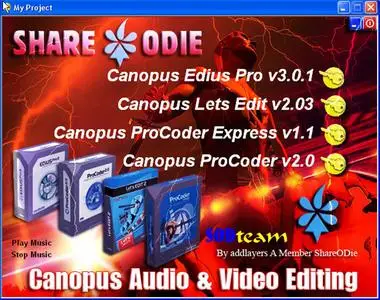 EDIUS Pro 3
Professional Editing Software
EDIUS Pro 3 is the most powerful version yet of Canopus's acclaimed non-linear video editing software application. Freeing video editors from the limitations of conventional editing systems, EDIUS Pro 3 provides a seamless realtime workflow supporting all video acquisition formats, with realtime, multi-track, mixed format HD / SD editing, compositing, chroma keying, titling and timeline output capabilities.
EDIUS Pro 3 directly supports OHCI FireWire, as well as Canopus's range of realtime editing hardware cards, including the DVStorm series and DVRaptor RT2 series, providing video input / output and accelerated realtime editing performance.
ProCoder 2.0
The Ultimate Format Converter
ProCoder 2.0 combines speed and flexibility into a streamlined video conversion tool for professionals. Featuring, extensive input / output options, advanced filtering, batch processing and an easy-to-use interface, ProCoder 2.0 is the ideal solution for high-quality multi-format video creation.
Let's EDIT 2
Realtime Video Editing with Movie-style Effects
Capture your home movies, edit them with realtime special effects and then burn to DVD. Canopus Let's EDIT 2 is fast and easy-to-use video editing software with movie-style effects and DVD-Video authoring. Breakthrough realtime operation dramatically speeds up the editing process, as there is no rendering or waiting while creating movies with sophisticated special effects.
Canopus ProCoder Express v1.1 for Edius 3
Fast, High-quality Video Format Conversion
How do you like your video? QuickTime™ or Windows Media™? 16:9 or 4:3? No matter how you want your video, ProCoder Express can create it with amazing ease and speed. Encode your movies and video clips to any format, using the same technology available to video professionals. ProCoder Express is fast, easy-to-use and will have you creating video files for DVD, VCD, Web streaming and emailing to friends, in just a few simple steps.
Download size 423 MB
Código:
http://rapidshare.de/files/10675279/Canop.part1.rar
http://rapidshare.de/files/10675385/Canop.part2.rar
http://rapidshare.de/files/10677900/Canop.part3.rar
http://rapidshare.de/files/10678254/Canop.part4.rar
http://rapidshare.de/files/10678345/Canop.part5.rar
RAR password:
jamezua
(credits to addlayers)