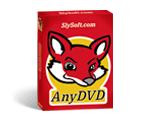 AnyDVD 6.1.0.7 with working key | 1.2MB
AnyDVD works in the background to automatically remove the copy protection of a DVD movie as soon as it's inserted into the drive, allowing you then to backup the movie using a DVD backup tool such as CloneDVD and CloneDVD mobile. You can also remove the RPC region code, thereby making the movie region free and viewable on any DVD player and with any DVD player software.
AnyDVD is capable of removing unwanted movie features, including subtitles and prohibition messages such as copyright and FBI warnings. It also allows you to launch an external application whenever you insert or remove a disc, or prevent 'PC-friendly' software from automatically launching when you insert a video DVD.
6.1.0.7 2007 01 14
- New: Added support for new versions of the SONY Arccos protection
to the option to remove "Protection based on unreadable Sectors"
- New: Improved "Jump to title menu" with some discs containing
TV episodes
- New: Workaround for bug in I/O subsystem of Windows Vista,
which can cause BSOD with copy protected DVDs
- New: Workaround for problem with U3 USB memory sticks
- New: improved display of drive type in AnyDVD status and drive
selection window
Download:
http://www.ftp2share.com/file/20029/AnyDVD6107.rar.html