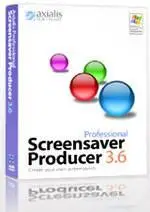 Axialis Professional Screen Saver Producer 3.64 (Corporate Edition) | 9,92 MB | Serial Included
Almost all kind of screensavers can be created with Professional Screen Saver Producer. It creates screensavers based on sprites (small animated objects moving on screen), Flash movies, slideshows and video clips (AVI, MPEG, QuickTime and Real).
*
Easy with Sprites
- Creating state-of-art screensavers with sprites (animated objects moving on screen) has never been easier. For example, you'll be able to create in minutes a cool screensaver with your company logo bouncing on screen.
Images with transparency (including alpha-channel) are supported. Several options are available: Bouncing on the screen borders, realistic collisions between objects and more…
*
Unlimited with Flash
- If you use to create Macromedia Flash movies, you'll produce limitless screensavers. The product is fully compatible with SWF movies up to MX. You can produce full screen or scaled playback. An interesting feature permits to create interactive screensavers (the user can click in movie to interact with the screensaver).
*
Relaxing with Slideshows
- Creating slideshow screensavers is also possible. Many transitions are available including the famous "fade-in & fade-out" effects. Several options are available to meet your needs: background sounds, ability to attach a speech to each image, display with automatic screen resolution adjustment, and more.
*
Dynamic with Video
- If you have created a video movie, you'll be able to create a screensaver from it in a few minutes. For example, it's a great idea for a company to make a screensaver from a TV ad clip. All the video file formats are supported: AVI, MPEG, ASF, QuickTime, RealMedia.
Download:
{rapidshare}