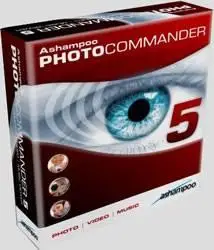 Ashampoo Photo Commander ver.5.20 | 12.5 mb
Ashampoo Photo Commander 5 is an all-in-one application for organizing, editing, sharing and presenting photo collections. It also features additional creativity tools and audio and video management capabilities, making it a complete media management package.
Ashampoo Photo Commander 5 makes managing and organizing even the largest collections of digital photos easy. Its powerful integrated photo editing tools make it a one-stop solution. Instead of switching to a graphics application you can do all your adjustments and enhancements directly in the organizer. Remove the red-eye effect, adjust colors, contrast, hue and many other parameters, resize, crop, rotate, add a wide range of special effects and more. All without leaving the program.
But that's not all. You also get a suite of powerful and yet easy-to-use creativity tools: You can generate web albums of your photos that you can post on your home page. You can send your photos to friends by email, create collages, calendars and greeting cards, add picture frames and vignettes, insert text bubbles, add text, create slide shows and view them on your computer or burn them to CD or DVD, complete with a viewer program so that anyone can play them.
* Photos:
In addition to viewing and managing your photos you can also edit them, correct red eyes in seconds, adjust the colors, display slide shows or burn them to CD and DVD, create photo albums you can publish on the web and order high-quality prints online. You can also rotate, tilt, flip, resize and print your images and send them to friends by email, create animated images, apply borders, convert your images to other formats and take snapshots of your screen.
* Videos:
Ashampoo Photo Commander makes videos just as easy to manage as photos. They are displayed as thumbnail images and can be played directly in the program, with support for a huge number of video formats. You can zoom the display, play in full-screen mode, extract screenshots, create video playlists and more.
* Audio files:
You get all the functions of a good audio player without having to leave Photo Commander. Play and organize your audio tracks, create and store playlists and much more.
* Multimedia:
In addition to all the operations you can perform on the individual media file types you can also create multimedia playlists, combining photos with audio and video files, which you can then display one after another like a slideshow.
* Other features:
Ashampoo Photo Commander 5 supports "skins". You can load different skins for a different look or even redesign its user interface yourself. It also supports plugins for handling additional file formats. A number of plugins are already available, including plugins for the the Canon RAW, Kodak Flashpix, HDR .dds, Industrial Light & Magic HDR .exr and Joint BiLevel .jbg formats.
* Supported formats
Over 60 graphics, video and audio formats are supported. Exclusive: Version 5 now includes full read and write support for transparent JPEGs (.jng files).