The Atlas Construction Business Forms CD consists of 122 essential forms to keep your business transactions looking professional and organized.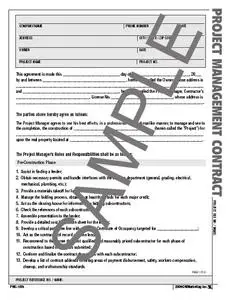 Atlas Construction Business forms come in both Adobe PDF and Microsoft Word format. The Word forms are fully customizable so you can change and/or add information tailoring each form to meet specific job applications. Just add your company name and information for fully customized, professional looking forms. All PDF forms come in a fill-it-in-before-you-print format and you can print as many copies as you like. You can also save your completed PDF documents to your computer if you own a read/write Adobe Acrobat program.
Please note that the information in these documents is designed to provide outlines that you can follow when formulating business or personal plans or agreements and are not meant to provide legal advice.
Note: These are NOT AIA documents.
System Requirements:
To install and use, you'll need a computer with a CD-ROM drive, at least 40 MB of available hard disk space, and be running Windows 98/2000/XP operating systems or Macintosh* systems.
*For Macintosh Users- To open the forms on a Macintosh computer just double-click on the CD image in the finder and open the Word or PDF folders and double click the file you wish to launch.
The following is a list of documents found on this CD-ROM:
The highlighted forms are available for instant download. Just click on the form you need!
Your link:
http://rapidshare.de/files/23474955/ConstructionBusinessForms.iso