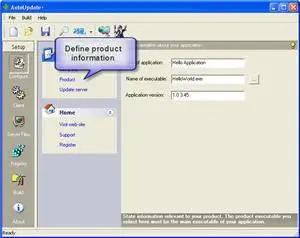 AutoUpdate Plus v3.2.0.73 | 2,19 MB
AutoUpdate+ is the leading solution for update management. It is used by developers world-wide, using a variety of programming lanaguages, from C++ to Delphi and .NET.
KEY FEATURES
* Interface driven . No scripts needed.
* Targetted updates allow testing before deployment.
* Security code maintains update integrity.
* Deliver silent and compulsory updates.
* Automatic usage of proxy.
* Multilingual interface.
* Dynamic messages allow you to change the interface's text after deployment.
* Self-updating mechanism keeps client up-to-date with ease.
* Ability to deliver updates to users with restricted permissions on the PC (non-admins).
* XML based configuration files enable integration with your back-end business logic.
* Small footprint and no dependencies. Works on all computers from Win95 to Win2003.