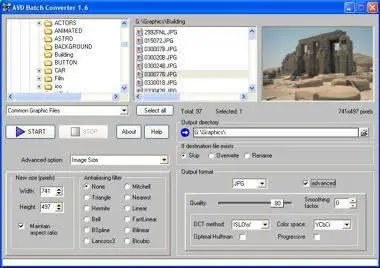 AVD Batch Converter 1.6 | 1.9 MB
AVD Batch Converter allows you to easily convert multiple graphics files.
The program supports file formats to which you can convert: BMP, JPG, GIF, PNG, PCX, TGA, TIF, JPEG2000 and Photoshop PSD.
The original file can be in following file format: BMP, TIF, TIFF, GIF, JPG, JPEG, JPE, PCX, DIB, RLE, ICO, CUR, PNG, WMF, EMF, PSD.
Features:
*Save specific file format parameters and save preview dialogs
*Viewing of any image in a separate window
*Resample images (with use 9 resample filters)
*Change resolution
*Change paper size; placement a image on paper; paper color
*Crop of the selected area
*Rotate through any angle
*Create horizontal and vertical mirror images
*Auto Equalize
*Negative
*Regulate contrast, RGB, HSL and HSV
*Add Border to Photos
*Soft shadow
A border in the right color improves the look of a photo.
The easiest way to create a frame is to simply surround your photo with a blank area.
For a photo this size–about 500 by 800 pixels–I'd try 50 pixels for starters. Enter that number, and make sure the Symmetric check box is selected so the same border will be added to all four sides. Then click in the Color box and select something that suits the photo.
http://rapidshare.de/files/26782551/ABC16.rar.html
Enjoy !