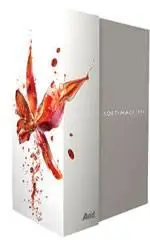 344mb
Introducing SOFTIMAGE|XSI v.5.0, the digital character software designed with a gigapolygon core to handle ten times the detail for next-generation productions and take full advantage of 64-bit platform. Acclaimed for its ease of use, XSI v5.0 introduces a comprehensive set of migration tools for Maya users. New interface layouts and navigation modes let artists transfer their existing skills and muscle memory to XSI, and migrate in days, not weeks.
Going far beyond normal maps, XSI v.5.0 introduces "Ultimapper" for film-quality effect maps with a single-click workflow. Ultimapper generates normal, ambient occlusion, difference, parallax, light, and albedo maps from arbitrarily complex models using the full power and cinematic quality of mental ray rendering.
A core component at the heart of Avid Computer Graphics solutions, XSI v.5.0 allows 3-D art teams to achieve richer results more quickly. Combined with Alienbrain® Studio, the scalable asset management system and powerful Avid editing and compositing workstations, the flexibility of Avid Computer Graphics solutions make it easier and more affordable to bring order to complicated creative workflows.
http://rapidshare.de/files/10247659/Softxsi51.part01.rar
http://rapidshare.de/files/10248064/Softxsi51.part02.rar
http://rapidshare.de/files/10248071/Softxsi51.part03.rar
http://rapidshare.de/files/10248160/Softxsi51.part04.rar
http://rapidshare.de/files/10248175/Softxsi51.part05.rar
http://rapidshare.de/files/10248465/Softxsi51.part06.rar
http://rapidshare.de/files/10248876/Softxsi51.part07.rar
http://rapidshare.de/files/10248897/Softxsi51.part08.rar
http://rapidshare.de/files/10249984/Softxsi51.part09.rar
http://rapidshare.de/files/10250200/Softxsi51.part10.rar
http://rapidshare.de/files/10251139/Softxsi51.part11.rar
http://rapidshare.de/files/10251159/Softxsi51.part12.rar
http://rapidshare.de/files/10251456/Softxsi51.part13.rar
http://rapidshare.de/files/10251611/Softxsi51.part14.rar