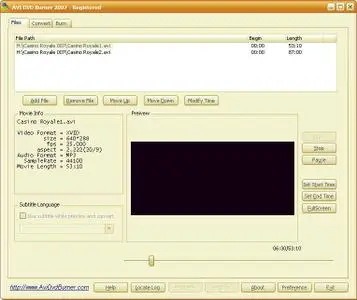 AVI DVD Burner 2007 ver.2.23 (subtitles supported) | 3.7 Mb | Windows OS
AVI DVD Burner is designed to do the converting from AVI to DVD. AVI DVD Burner is a one-click professional DVD maker for AVI movies. It can convert AVI format movie into DVD format and burn it to DVDR disc all in one step. It can start burning after conversion automatically with built-in DVD writer. AVI DVD Burner can retain the quality of AVI movie. For the AVI which has AC3 audio track, it can give you the same audio quality as the original DVD by using direct AC3 technology. By setting the start time and end time of the movie, you can choose the part of interest of the movie to burn into DVD as collection.Version 2.22 may include unspecified updates, enhancements, or bug fixes
Main features of AVI DVD Burner:
-One-Click professional DVD maker
AVI DVD Burner is a one-click professional DVD maker for AVI movies. With AVI DVD Burner, you can convert AVI movie files into VOB format and burn into into DVD easily.
-High quality of conversion
With advanced video encoder, AVI DVD Burner will maximum retain the quality of AVI movie.
-High audio quality
With direct AC3 technology, AVI DVD Burner will give you the same audio quality as the original DVD if the AVI has AC3 audio track.
-Burn DVD automatically support
With built-in DVD writer, AVI DVD Burner will start burning after conversion automatically.
-Part conversion of one AVI file support
AVI DVD Burner can convert part of one AVI file according to the desired start position, end position and length.
-Combine of several AVI files support
AVI DVD Burner can combine several AVI files into one DVD.
-Movie Preview support
AVI DVD Burner can play the movie file in the Preview window. This is an effective assistance to movie file conversion and DVD burning. With this function, you can choose the part of interest by setting the start time and end time of the movie. Then convert the special part and burn it into DVD.
-Subtitle display support
The subtitle of AVI movies converted and burned into DVD by AVI DVD Burner can be displayed.
-Shut down computer automatically support
The computer can be shut down automatically if you choose the option of AVI DVD Burner.
-ISO files making support